Many advertisers and marketers seem to think that different platforms are separate from each other – especially if one is search vs. social. While you might consider Instagram to be close to Facebook regarding compatibility and priority for marketing efforts (and you'd be right), have you considered Google and Facebook working together very well? There are many reasons why cross-channel marketing should be part of your strategy.
Why it should be part of your strategy?
Leveraging both search marketing (Google marketing) and social publishing (Facebook) tactics help your audience find you and vice versa, which will attract and engage customers. Whether you're a CBD brand or local bakery this will ultimately improve sales. Cross-channel marketing (in this case search and social) guides potential customers towards engagement and moves then further in the buying process.​
If you're not using both in collaboration, you may be missing out on leads and sales.
In this article, I'd like to share a story when this type of synergy became real, and go over the powerhouses in detail and how you can use cross-channel marketing for better ROI.
I saw firsthand the potential and incredible sales impact some social media marketing can create and how it can help all business owners.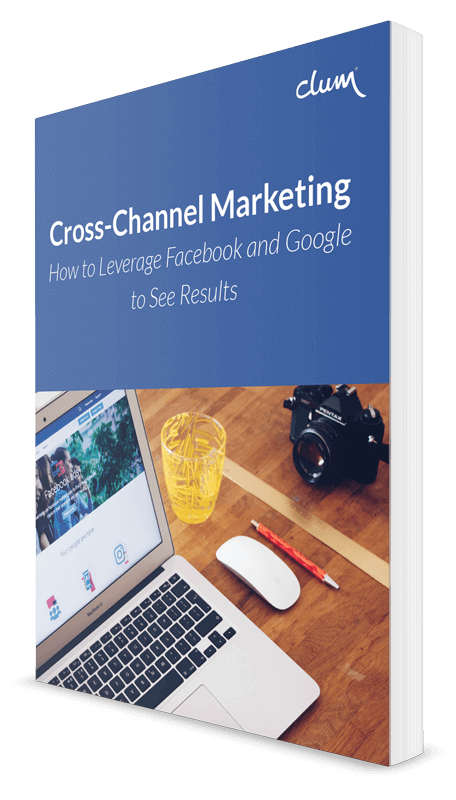 Let's get started. Below, I'll discuss:
How Super Spinner Grew Their Organic Traffic by 86.7% in a Week [Case Study]

A Look at Cross-Channel Marketing With Paid Ads [with real-world example]

A 5 Step Approach to Facebook Advertising [that will get you searched on google]
Case Study: How Super Spinner Grew Their Organic Traffic by 86.7% in a Week
One of Clum Creative's earliest advertising clients sold a unique kid's swing on Amazon. Amazon does not allow any 3rd party tracking (Facebook or Google Analytics). To optimize and scale campaigns, we had to rely on the information from the Amazon Seller Central (Amazon's analytics dashboard), and Facebook Ads Manager, without connecting in any way.
So, What Happened?
As we ran engaging customer-generated images and videos produced by our creative team, to both cold audiences and our favorite retargeting audiences on Facebook, we began to see sales rise – although we weren't driving any direct traffic to the Amazon order page.
Yes, that's right.
We were not asking for our audience to buy anything. No CTAs in the ad, however, we left them in the comments for those who were ready to purchase.
We merely shared exciting and positive social proof to engage our audiences at a high level. We tried to not shove the product down the user's throat, as most marketers do. We wanted to make consumers aware of the product and, with enough trust and rapport with us, would consider buying on their own.
Why did we choose this strategy?
We chose this strategy specifically with Amazon because of the lack of tracking we would have with driving direct traffic, and since these pages appeared at the very top of Google for "Super Spinner". Please keep in mind we do recommend driving direct traffic for conversions to your website and product pages in most e-commerce cases where the product is sold on your website.
On a side note, a cool thing happened…
I showed my Mom the Facebook ads that were running. Her comment,  "Those aren't ads! They're just posts". My comment, "Yes, that's the point. But they're ads".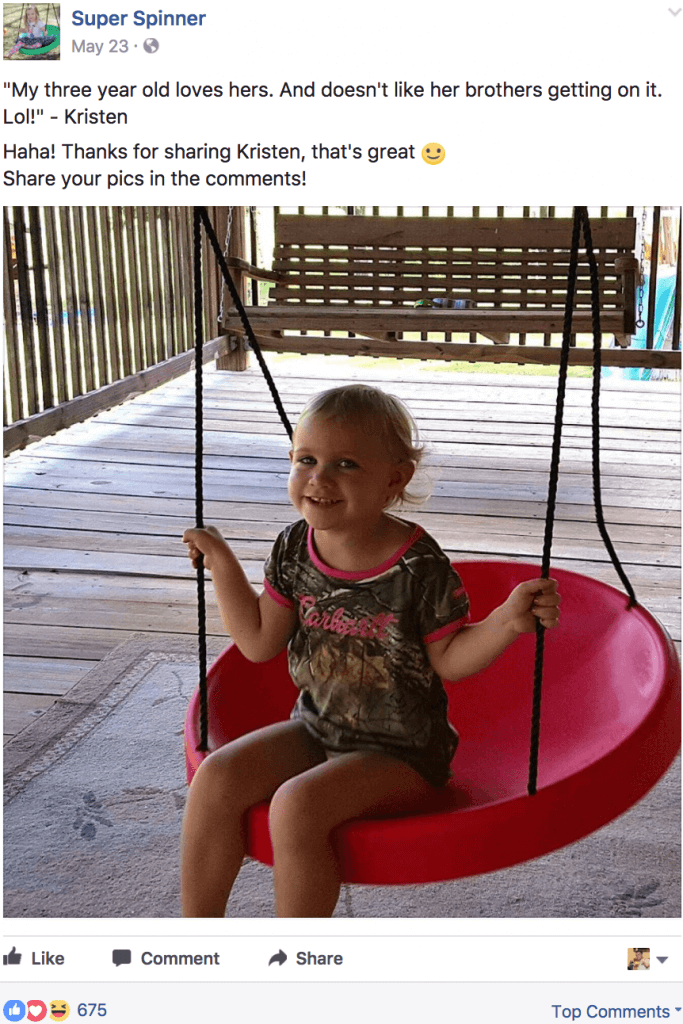 This goes to show how engaging and straightforward it can be to bring people who know nothing about your product, to become aware, and know, like and trust your brand. The post received lots of engagement, and we couldn't have been happier.
But …
I wanted more data to analyze the results.
Check Google Analytics!
Sure enough, the first week we began running Facebook ads, our organic keyword sessions increased from 361 to 674. That is a glowing 86.7% increase! This trend maintained and continued to grow.
When you utilize a top-to-bottom funnel strategy as proven by all successful marketers, the results are nothing short of outstanding.
Here's the key takeaway…
People are engaged in social. They turn to search when they are more prepared to buy.
For example, they see a great video on Facebook that is full of social proof. (Likes/Reactions, Comments, and Shares).
They are inspired
They show it to their spouse
Agree to buy the product or search more
Google it
Land on the website or Amazon page directly
Get redirected to Amazon to purchase if landed on the website
Facebook users are inspired at first with Facebook ads, posts, etc in their newsfeed. At some point in their journey, turn to Google with search intent and then what do they do?
Convert.
In our case study, further analysis showed the Average Order % increased by a consistent 2-3% each week – rising to numbers that the CEO has never seen before. As you can see, it's beneficial to use Facebook and Google together to increase sales.
Too many marketers view them as in competition with the other. They're not, at all — they complement each other. Notably, we did not use Google Ads (formerly known as AdWords) in this campaign. The results on Google came organically from the efforts with Facebook.
Search and social work better together to produce results.
Cross-Channel Marketing Benefits Using Facebook and Google
You have to think in terms of the user experience. Cross-channel marketing is customer-centric and should focus on how to influence your customer to take action.
Jan Dawson, a principal analyst at Jackdaw Research states,
"If you want broad reach, and you want to reach big audiences using sophisticated targeting, you have to go to Google and Facebook."
An industry survey conducted by PwC and sponsored by the IAB (Internet Advertising Bureau) 2017 full year results revealed…
"Search revenues totaled $40.6 billion in FY 2017, up 17.5% from FY 2016 ($34.6 billion)." The number reflects paid listings and contextual search.
"Social media advertising revenue growth continued in 2017, growing 36% from the prior year to $22.2 billion. Social media now represents 25.2% of overall revenue."
One key takeaway …
You need to follow your consumers, who are online, whether they are using their smartphone, tablet, laptop or desktop. Digital is a massive part of their daily life.
Real World Example: Google and Facebook Synergy
It's proven technological advances (when working together, as in search and social) gives businesses the ability to target large audiences across multiple platforms and devices. The question now becomes…
When to use them throughout the customer journey?
As in the related case study with Super Spinner, you could value Facebook in the awareness and consideration stages (more top of the funnel). Google could be construed as more in the consideration and conversion stage (bottom of the funnel).
The Super Spinner case study was the results of Facebook advertising with no Google advertising.
That got me thinking again…
What if there was some cross-channel marketing with paid ads and the two powerhouses were more integrated.
Marin Software, an Ad Management Platform, explains how it takes multiple touches with a brand before a prospect or existing customer takes the desired action.
They created a real-world example illustrating how Google and Facebook can work together in an integrated, cross-channel way to deliver both new conversions and repeat purchase.

Like our infographic? Feel free to share or embed:

It went something like this…
Step 1: Mike searches on Google for "top hotels on the beach in South Carolina." He clicks on a paid search ad. At this point, there is no mention of the brand. Mike is looking at a non-branded and broad keyword match.
Step 2: He reads some reviews, checks out the photos, and studies pricing. (but doesn't purchase)
Step 3: When Mike is on Facebook, a FB video ad highlighting the beach draws him back in. He gets excited and starts to tell his friends about the trip they can take together.
Step 4: Mike goes back to Google and searches the hotel brand he just watched on Facebook.
Step 5: Mike gets added to a "cross-sell" audience on Facebook through dynamic ads. In Mike's case, the dynamic ad will show him a complementary offer.
Step 6: He views another Facebook ad before leaving on vacation offering a discounted fishing trip during his stay.
Step 7: Mike loves the offer, so he purchases the fishing trip as well.
In this scenario, Mike clicked on an ad in Google, and a Facebook ad was generated based on that search intent. Continuing on his journey, he searched for more information with buyers intent. He was presented with an additional opportunity on Facebook for a complementary offer (the fishing boat excursion). It all started with a click on Google!
We all knew it was coming, and in 2017 it finally happened – digital advertising outspent TV – and is projected to continue to do so, according to Magna and Recode.
Both Google and Facebook have unique ad formats to drive traffic and convert leads into paying customers. They have key similarities and differences.
What do we do?
At Clum, we concentrate on integrating video with paid media to drive profitable results. Along with the concepts presented above, a vital part of that formula is creating ads that don't look like ads and generate conversation and traffic. In direct alignment with Facebook's recommendations, we use Awareness, Engagement/Consideration, and Conversion ads for the full funnel picture. Each has its deliberate objective, creative and targeting.
Let's face it.
Advertising can be expensive – especially when you don't know what you're doing! Maybe you want to get started with a few ads on Facebook then branch out.
5 Steps to Facebook Video Advertising
Facebook video advertising will help you capture the attention of your target audience. According to Adobe, shoppers who view video are 1.81 times more likely to purchase than non-video viewers.
Here's a 5 step process when you get your Facebook advertising up and running.
Strategy – gather your GCT: goals, content, and targeting
Content Production – create new video content for specific parts of the funnel, mainly awareness and engagement – often using static images at the bottom of the funnel for conversion
Campaign Launch
Daily Optimization – monitor and improve your ads daily using the simple method of MAA – gathering the Metrics, Analyzing them, and taking Action.
Weekly Reporting – Ensure you're keeping track of your key metrics for your business. It depends on what your strategy is, but often this will include ROAS, CPA (cost per acquisition), CPC (on the link), then Cost Per Engagement, Relevancy score, and Frequency… to name a few.
Facebook ads are one of the best ways to build brand awareness. It has countless ad targeting options to explore. And once potential customers recognize your brand in their newsfeed, they will Google you.
Both Facebook and Google are advantageous to your bottom line and give plenty of reasons for you to try cross-channel marketing.
Now It's Your Turn
Did you learn something new from this article? Would you try cross-channel marketing?
Or maybe you have a question.
Either way, leave a comment below.