Facebook Marketplace is one of the largest person-to-person selling platform's available online. Here you can discover, buy and sell items with people in your local community or surrounding area. It's been compared to eBay and Craigslist.
Facebook may have an advantage over the two, with its extremely large user base. Worldwide, there are over 2.23 billion monthly active Facebook users for Q2 2018. (Source: statista)
What this means for you: statistically, Facebook is now too huge to ignore. And it's growing with its expansion in Marketplace Ads for business.
Are you using FB Marketplace Ads to its full potential for your business? Could you use some new insights into the world of Marketplace Ads to increase your sales?
In this post, I'm going to show you how to drive more traffic to your website, increase engagement or demo your product using video inside Marketplace. If you're new or a seasoned pro to FB advertising, I'll walk you through the step-by-step process to get you advertising on the Marketplace platform quickly.
Facebook Marketplace Advertising Advantages
Technically brands were not supposed to sell their products on the Marketplace. Until recently Facebook expanded the Marketplace to include businesses.
There are quite a few benefits for a business to advertise on the Marketplace:
impact brand marketing
builds trust
reach more customers where they already are actively shopping (they have the buyer's intent)
extend your ads or scale ads with automatic placement
and it doesn't hurt that Marketplace occupies the central tab on the mobile app's menu bar.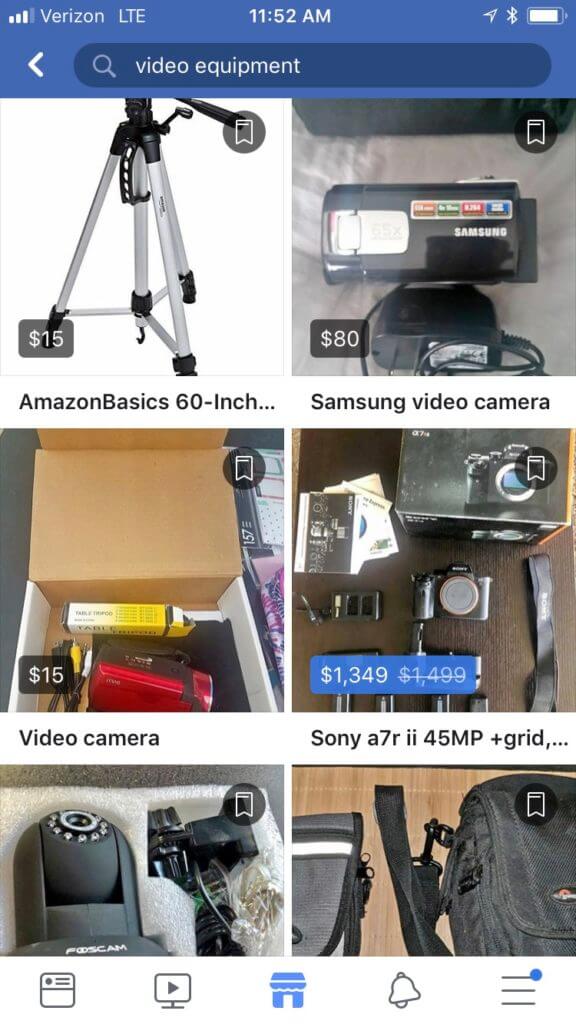 By selecting Automatic Placement, businesses can extend their existing News Feed, video, Instagram, Messenger and other ad campaigns to the Marketplace. And according to TechCrunch reporter Josh Constine, "More types of objective-based campaigns will open to the classifieds section soon." He also stated that Facebook conveyed the ads will be auto-optimized for clicks.
Let's take a look at campaign objectives for your business.
What are Facebook Campaign Objectives?
Think of them as your goal for your marketing campaign.
Do you want your ads to raise awareness? Grow engagement? Or boost conversions. The objective you choose will coincide with what you want visitors to do when they view your ads.
The Facebook Ads Manager as of now has 11 campaign objectives. Selecting the right objective is based on your business goal. They fall under 3 categories, awareness, consideration and conversion.
Here's a comparison…
Awareness objectives would be an ad to increase brand awareness. You are introducing your product or service to generate interest.
Consideration objective, people may have heard of your product but are seeking more information. You can run ads to increase traffic, engagement, promote videos and more.
Conversion objectives, inspire viewers to purchase or use your service.
Ads in Marketplace will appear when browsing Marketplace in the Facebook app on a user's phone. The objectives you can use with these ads include Reach, Traffic, Conversions, Catalog Sales or Video Views.
Before we go step by step in setting up a Marketplace ad, let's discuss the differences in the ad venue.
Facebook Marketplace Ad Placement
There are a few ways to advertise and get your brand noticed by users. For small businesses, the ads will provide additional access to local markets. Users will have the option to come to your storefront, visit your online store or engage with you on social media.
Marketplace placement ads are advertising in the same way you would in the Facebook news feed or the other placement options. Available placements include:
Facebook – Newsfeed, Instant articles, In-stream videos, Right column, Marketplace, Stories
Instagram – Feed and stories
Audience Network – Native, banner and interstitial, In-stream videos, rewarded videos
Messenger – Home and sponsored messages
According to Facebook, "Depending on your ad type, content and the design of its creative, every placement may not be available."
There are two choices when selecting your placements:
Automatic Placements – includes all placements. It gives the delivery system more opportunity to get you and your business better results.
Manual Placements – you get the choice of which you want to use. Think of your campaign objective. If you are looking for more brand awareness, Facebook and Instagram may be the right ad placement choice. If the goal is to generate more traffic to your website, Facebook, Messenger and Audience Network could be the avenue to pursue.
Facebook shows an example of how the two could be misinterpreted and how to efficiently spend your budget.
I think the biggest takeaway here is –  intent-based advertising platforms target people who are actively searching rather than merely interested. Ad placement will play a key factor.
A business that offers products similar to those already listed in a popular category will probably see good results.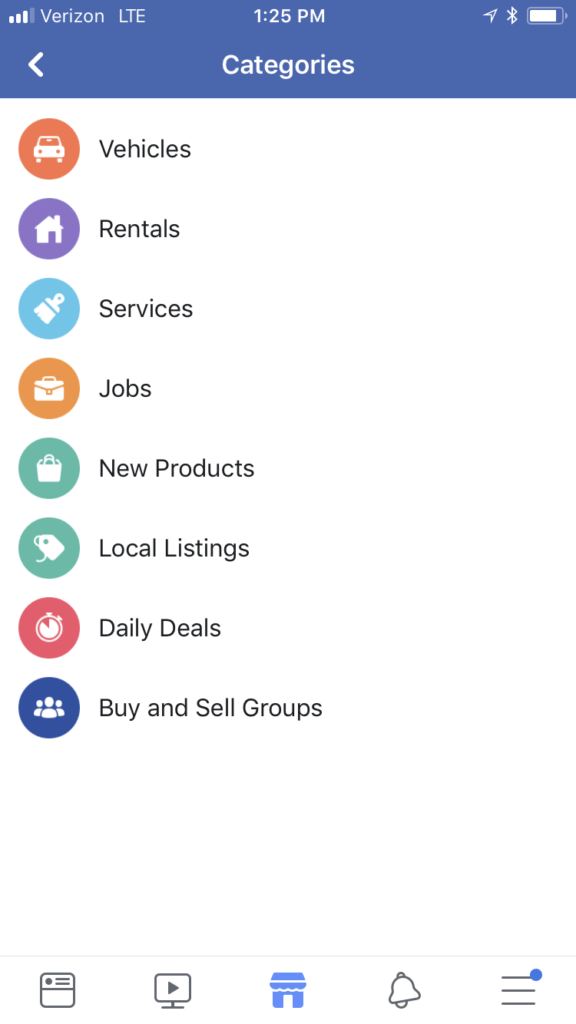 Currently, you can only choose "Marketplace" as a generic placement – but let's say you sell car parts, and you want to place in the "vehicles" category… You cannot. But, as Facebook is already past capacity for ad space vs advertisers, they continue to open up new areas and opportunities for advertisers (so they can make more revenue).
Category-specific targeting in Marketplace advertising will likely be available as an option slowly released to advertisers over the next 6-18 months, or 1-2 years.
How to Create Facebook Marketplace Ads
Ad creation is the fun part
Step 1: Go to Ads Manager and Choose Your Objective. In the image below, I selected Consideration — Traffic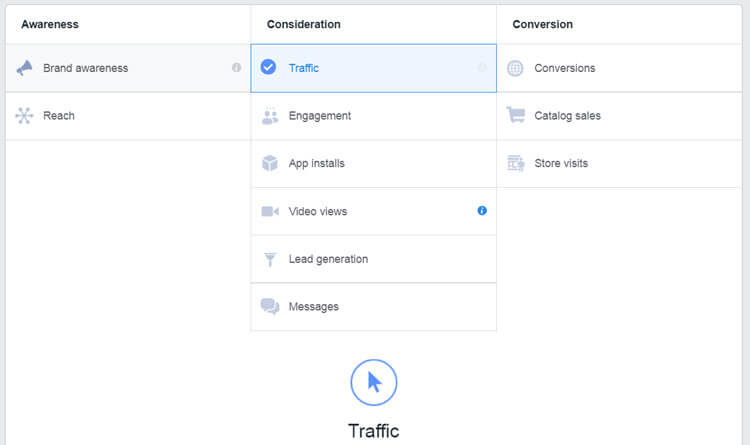 (You will also be given the option to Switch to Quick Creation if you want)
Step 2: Name Your Campaign and Click Continue.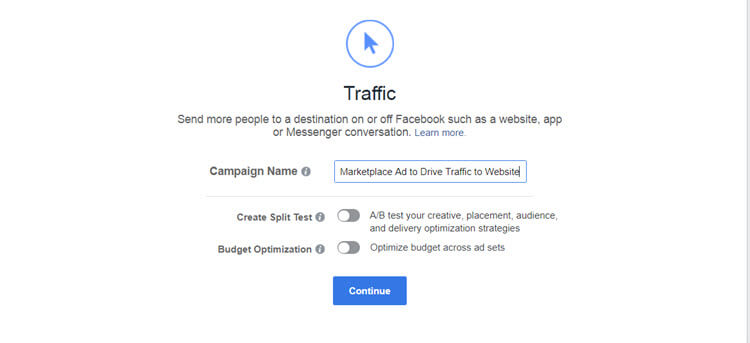 Step 3: Create a New Ad Set
In this case, we are choosing a website as to where we want to drive traffic. Like other Facebook ads, you will choose your audience, define your targeting by location, age, gender, language, and connection.
Continue to scroll down to placements.
Your Ad set includes (in this scenario) –
Traffic (the campaign objective, directed to a website)
Offer (if you want to create an offer. It does not have to be enabled)
Audience
Placements
Budget and Schedule
Step 4: Choose the Marketplace Ad Placement
Facebook's default is the Automatic Placements. In the image below, Marketplace is included.
If you want to edit placements, click on Edit Placements. Marketplace ads are now available in mobile and desktop option. You also have the option to select All Mobile Devices, Android Devices Only, iOS Devices Only and/or Feature Phones Only.
If you are choosing Edit Placements option, you must have Facebook feeds checked to appear in Marketplace.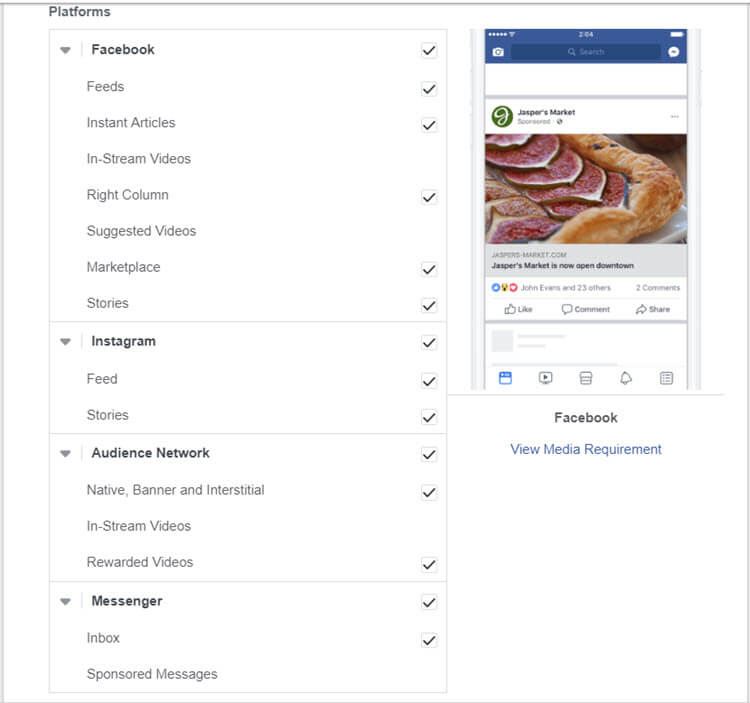 Step 5: Set Your Budget and Schedule
Define how much your budget will be and when you want your ads to appear.
There is an entire section on optimization for Ad delivery and Bid Strategy. You'll need to understand the verbiage of link clicks, landing page views, impressions, and daily unique reach.
The Bid Strategy covers automatic bidding with a bid cap and target cost. In this section, you'll also have the decision how you want to be charged for advertising, impressions versus cost per click.
Step 6: Identity – Choose How You Want Your Business Represented in Your Ad
Your Facebook Page or Instagram account will depict your business.
Step 7: Format – Choose How You Would Like Your Ad to Look
There are 5 types of formats to choose from:
Carousel –  Two or more images or videos
Single Image – Create multiple ads with one image
Single Video – Turn images into a video or create an ad with one video
Slideshow – Create a looping video ad with up to 10 images
Collection – Feature a collection of items
Since we are a video production company, let's choose Single Video as a walk-through.
Step 1: Click on Single Video
Step 2: Upload Video, Browse Library or Use Templates
If you click on Browse library, you can choose from your Page Videos or Paste a Link directly. Templates are pre-built and can get you up and running fast.
Templates come in two versions, square and vertical and are image based. They have unique goals from Promote a Product, Drive Product Discovery, Sell Multiple Products, and Show Product Benefits.
If you are going to upload a video you created (which we are big fans of), Facebook recommends shorter length videos for audience network, Instagram stories, and feed.
Marketplace ads are overshadowed with images. This is your chance to create eye-catching videos to grab the viewer's attention that demonstrates your product or service.
Socialbakers, a company that helps brands work smart on social media, says on the newsfeed side, Facebook videos receive 135% more organic reach on average than a Facebook photo. You have to think of what can happen in the Marketplace venue.
And if that's not enough, watch…
Why is online video skyrocketing? Watch to discover five factors behind video's rapid rise.
Why is online video skyrocketing? Watch to discover five factors behind video's rapid rise.

Posted by Facebook IQ on Wednesday, March 8, 2017
Back to the Media Setup…
After uploading your video, choose a preview image. Video thumbnails play a huge part when it comes to attracting and captivating your audience.
You can also add video captions.
The next steps have to do with your Links.
Step 8: Select the link type for your ad, website or facebook event
Step 9: Add text (this will be seen above your video)
Step 10: Enter the website URL you want to promote.
Step 11: Add a headline to let your audience know what your ad is about.
Step 12: Add a Call to Action button. This lets them know what they need to do next. For example, "Learn more", "Download" or "Get Offer"
Step 13: Enter the link you want to be viewed in your ad. This is optional. It is the display link.
Step 14: Add more information to the News Feed Link Description.
Step 15: Add URL parameters for tracking purposes.
If you like everything you see in Ad Preview, you are good to go. Click on Review. Still, like it? Hit Confirm.
Test and Analyze Your Results
As with all advertising, test and analyze your Marketplace Ad Placement results. You can filter by placement. Hover over each platform to view the data.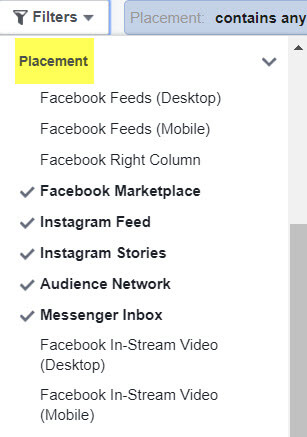 If you need help trying to figure any of this out, Clum Creative offers Facebook Advertising Services.
In Summary
Facebook's focus until recently was to bring advertising to peer-to-peer to buy, sell, and trade groups. The new introduction to Marketplace for business could develop into an e-commerce platform.
Step up your game with Facebook Marketplace Ads.
Currently, the ads are available to U.S., Canada, Australia and New Zealand.
Back to You
What do you think?
Have you created a Facebook Video Ad?
Did you use all placements or edit placements?
Tell us about your experience with Facebook Marketplace ads.
Share your thoughts and questions in the comments below.