What if…
You could make ads that don't look like ads? And what if those ads were your best performing, ever?
For a Facebook sales funnel to be effective and convert for your Goals, it MUST include marketing that isn't even recognizable as marketing.
Why? First and foremost; there are now 2 billion active monthly users on Facebook – and nobody logs in to buy anything. They open the app to see friend's pictures and videos, share stories and memories. They don't come to buy your product or service.
As marketers, we need to step into their existing world and enhance it – not disturb it.
Here's the deal: While most of your competitors are asking for the sale over and over again with strong Calls to Action and leaving audiences unhappy by constantly being sold to…
The smart marketers will be building awareness, providing value, and getting their audiences to Know, Like, and Trust their brand or product… before ever asking for a sale (if they even need to).
In this post, we'll walk you through every step of the funnel, not only detailing out what to do, but we'll show you real campaign examples of ads that have produced significant ROI in late 2017 and beyond.
Let's get right to it. Buckle up, because this is comprehensive – and it's really all you need to create a converting funnel with Facebook ads, using videos or not.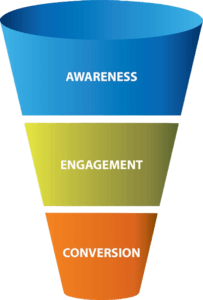 The funnel to our right here is the basic view of what we're going for. There might be additional mini-layers at different parts of the funnel, like different levels of purchase at the "Conversion" area (such as upsells), but no need to worry about that right now. Focus on the funnel as a whole…
Now if you came here looking for some guru-ninja-funnel, you're probably in the wrong place. Because in fact, this funnel is nothing new at all. This is age-old marketing that works decade in and decade out, because it is based on human psychology – which doesn't really change. There's also no need to try and trick the Facebook's algorithm, when you use it as it was intended to work – this is what we aim to do with Facebook.
Apart from Plumbing, the following is what you'll need to dominate with your Facebook marketing efforts, resulting in long-term, outstanding results.
Goals, Content, Targeting: GCT (this is your overall Strategy) – Hint, hint: 

VIDEO content
Awareness, Engagement, Conversion (this is the Facebook Ad Funnel)
Digital Marketing Strategy (GCT):
Step One – Define Your GOALS:
You might be thinking; "Goals, really?" I came to find out the secret sauce! Goals are everything. It's the core or your strategy, and without it being clearly defined, you're wasting precious time and resources building Content that will be irrelevant, and promoting it to people (Targeting) that aren't the right fit. What is your Primary Goal for advertising on Facebook? More sales? Great. Secondary Goal? Higher brand recognition. Sounds good. Get your Goals clearly defined before moving on to creating great Content. Goals can be easily matched up to the way Facebook's ad builder works: Goals would be "Campaign Objective", which would be the first step. It sets up what the basic format of the ad will look like, along with what FB will deem it best to optimize it's algorithm for. However, keep in mind: If your goal is more Sales, it's not always best to choose that as your Campaign Objective: Why? Well it depends on who you're targeting. Are these people ready to buy, or are they totally cold? This is extremely important to consider… We'll look at this more in depth in the funnel; AEC.
Step Two – Setup your TARGETING:
Although we call it GCT, it might be better ordered as GTC, as that's how Facebook's builder works. For targeting, it's easiest to set yourself up properly for the long-term, with strong remarketing audiences. Facebook has an array of great "Custom Audiences" you can build. Disclaimer: If you do not properly have your "Digital Plumbing" set up, you'll need to do so before creating these important remarketing audiences on Facebook. Essentially, you need to have your Facebook pixel in place all over your website.
You need to ENSURE you're utilizing these Custom Audiences:
Awareness audiences (cold):

Any people that match your ideal customer avatar – by location age, gender, interests, behaviors, etc.
Lookalikes – create these based off of Email list uploads

Engagement audiences (warm):

Watched 10 seconds of videos
Watched 25% of videos
Engaged with your Page
Website Visitors – 180 days
Website Visitors – 7 days
Website Visitors – 1 days
Email Lists

Conversion Audiences (hot): Many of your "Conversion" Audiences will be the exact same audiences that are used for the Engagement part of the funnel. We want to create audiences that are warmer and warmer to buying. Depending on your Goals and the product you're selling, the right audiences for you may fluctuate. These will be a great start:

Watched 50% of videos
Watched 75% of videos
Website Visitors 1,2,3 days
Email Lists
We made this video for you on HOW to create these audiences… There's a lot of good explanation in there, too. Watch!
Last piece on Targeting… LOTS of people ask me about "exclusion" and "inclusion" targeting. Also known as "AND/OR/WITHOUT" targeting. This was a feature that advertisers could only access via third-party softwares for a couple of years, until Facebook finally made it available to everybody. It can be very valuable, when used carefully. It's kind of a complicated subject but I've made it as simple to understand as possible. It's too long to go into in this post, so look out for the upcoming post, which will be shared to our Facebook page.
Step Three – Align Your CONTENT:
The following are crucial for you to have in your Content Marketing Strategy, depending on your business/product.
Video
Pictures
Articles/blog posts for PR
Infographics
Video
Podcasts
Your content needs to be relevant to your message, engaging to a customer, and high quality. One of the best ways to win over people who are customers into Lifetime Customers is by sharing your personal or company's WHY.
I'll share an example… Last summer, I started to go camping more – and join the millenial hammock craze… It seemed like all of my friends were going camping with their own "hammies"… and with good reason – they're fun, relaxing, and induce a sense of adventure. So I turned to Amazon (like any normal person would do), and typed in "hammock". Here began my search. Which had the best reviews? With the best color way? With the best price? Would I need to buy straps, and a bug net too? (Yes & yes). I was about to click "Order", when I messaged my friend who told me: "no way, get a Bear Butt. They're a start up company with the best customer service and best quality. You'll love it." Their hammies were a little newer with not as many reviews, but I decided to go with it, since everything seemed legit. 2 days later I'm opening up my Bear Butt hammie and looking up how to set it up on Youtube. I also come across this fantastic "WHY" or Story video:
[TS-VCSC-Youtube content_youtube="https://www.youtube.com/watch?v=HObB0LnNpoI"]
After watching this video, I actually became a fan – before I even set up my hammock. Suddenly I was putting their stickers (of a Bear's Butt) all over my luggage and water bottles. I told all my friends about it, including the company's story, and a month later everyone had Bear Butt hammies, straps, and bug nets on our camping trip in Port Austin, MI.
"Great stories are rarely aimed at everyone… If you need to water down your story to appeal to everyone, it will appeal to no one. The most effective stories match the world view of a tiny audience—and then that tiny audience spreads the story." – Seth Godin ("Ode: How to tell a great story")
The Three Stages of the Facebook Sales Funnel:
Step Four – Build AWARENESS as the "Top of the Funnel"
Awareness – Taking entirely cold audiences to get that first touch as a brand/product.
You've likely heard this example before, but it rings truer than ever… would you ask the girl to marry you before saying "Hello, I'm (your name here)"? Absolutely not, right? You'd introduce yourself, start getting on her radar, hang out in some of the same friend groups… and really make sure she was aware of you and what you stand for – especially if she's way out of your league!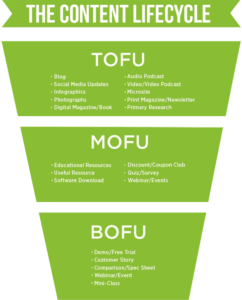 Here, we must introduce people to your brand or product. They've likely never heard of it before. It's a brand new thing. We just want to get that very first touch and make it positive. A great way to leave a positive touch on the first encounter is to utilize video. Top brands know this all too well – just use a nice, clean promotional video to share your product right off the bat. Those that interact the most with it, arguably are the most interested in possibly purchasing in the future. Post this content natively to Facebook. No Youtube links or websites. Refrain from asking for anything, because most won't give it to you – and you'll instead receive more negative feedback then positive. On the same note, for the select few that are already sold on your product, you don't want to remove the opportunity to let them buy: ensure to include a link or CTA in the comments. We once again recommend doing this passively and not aggressively.
Bonus: To your right is the "TOFU-MOFU-BOFU" Funnel from Digital Marketer's blog, about the Content Lifecycle. It outlines the Top, Middle and Bottom of Funnel aspects of your content marketing so you can have an even better idea of what goes where in the stages of your marketing funnel. This example works especially well for SaaS companies.
Step Five – Cultivate ENGAGEMENT as the "Middle of the Funnel"
Engagement – Taking barely-warm (remarketing) audiences and engaging them, getting them to Know, Like and Trust you.
You know what, now that you've hung out a little bit, why not ask her out on a legit date? Take the conversations to the next level, and get to know her more.
Begin ENGAGING with your audience and allow them to see a deeper side of your product or service. One of our favorites? Social proof, in the form of short testimonials or quotes. This is where we really dial in creating the right message for the right person at the right time… You'll really be able to see how well you're doing by looking at Relevancy score in this step of the funnel. So, gather as much social proof as possible, in the form of Social proof images and videos, testimonials and quotes… A great way to compile these if you're at a lack is to run little contests to gather content.
Step Six – Call-To-CONVERSION as the "Bottom of the Funnel"
Conversion – Asking those very warm remarketing audiences to take the desired action.
Wow man! She's out of your league but I think she's starting to really dig you! Maybe you should go on a little trip together, take it to the next level. And eventually, if she's game, you'd be crazy not to put a ring on it. And if she already fell for you before this point, then that's great – she'll probably already be hinting to you, taking you ring shopping and talking about kids 😉
If this is the scenario, then you've done such a GREAT job at engaging your audience, that you don't even have to ask them to buy – they're going to search that out on their own, usually via Google. Check out this case study, where just by running Awareness and Engagement campaigns, we immediately doubled Super Spinner's monthly organic Google search traffic. Because you display and engage with your audiences on a social platform in such a non-invasive way, customers will now actively search you out. It depends on your product or service, but people are getting lazier; so Conversion campaigns can be necessary. A Conversion campaign looks like what you might regularly call "an ad"… because, well, it looks like an ad. It has a clear CTA, usually to opt-in for something free or to purchase.
In Conclusion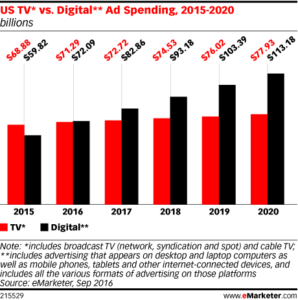 By deploying these 6 steps consistently as your marketing funnel on Facebook, you'll begin to see immediate results and ROI with your advertising budget. More importantly, you're investing most heavily into the future of your company's marketing – by filling out your pipeline and a strong social media presence.
Do this yourself, or work with a trusted company to strategize, build, optimize, and manage your Facebook marketing campaigns. We'd love to chat and see if we're a good fit to work together – you can get in touch with us here.
Either way, make sure to know what to look for in a Facebook Advertising Agency, so you don't get scammed, overspend, or worst of all, waste your time.
If you didn't already know, in 2016, digital advertising surpassed television advertising in dollars spent. Now is the time to use the most powerful platform, Facebook – before the biggest companies take it over and make it ultra expensive to advertise with, about 2-3 years away.