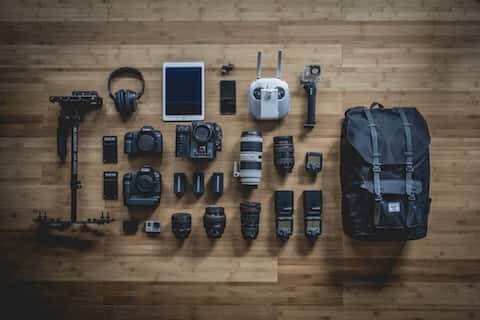 Companies that are fully embracing content marketing are finding themselves desperately needing more and more video content. And unless you're a mature corporation with full-time professional video producers, you're likely stuck between hiring a
video production company
to produce your content, or trying to do it yourself. Most of the time, marketing managers get assigned the task of shooting, editing, and producing content for the company's YouTube channel and blog. If this is you and you're looking to make your videos a bit better that a simple iPhone and iMovie shoot, here's a list of 10 underrated tools that can drastically improve your production quality.
1. Canon XA30 ($1599): 
The first question most people ask when thinking about investing in in-house equipment is "What camera should I get?". If you ask a video producer they usually direct you to a DSLR, such as a Canon 6D or 5D. In my opinion, a DSLR can be tricky for a non-pro, as not only do you need to get the camera, but you'll need a variety of lenses to be able to get a variety of different shots.
With the Canon XA30, you get a camera that is versatile, high quality, and easy to use. It has a built in lense that allows you to zoom to the framing you desire, and it's simple ergonomics and menu structure make it so any beginner can just pick up and shoot. This is a solid camera for quick YouTube videos and marketing interviews for your blog.
2. DJI Osmo ($600): 
The DJI Osma is an incredibly simple camera that hooks up to your iphone and allows you to get silky smooth shots that make your videos look "like a movie". It's basically a stabilizer with a built in camera, that weighs next to nothing and fits in a case the size of a small hammer. This is perfect second camera investment for shots that require running around and movement.
3. F&V K4000 ($415):
Great lighting is vital for capturing solid interview videos and product shots. If you're just getting started with in-house production and you have no budget for equipment, you're likely still using the general lighting in the room you're shooting in. But if you have a small budget for equipment, you'll want to get some lighting that's lightweight, simple, and fairly affordable. The F&V K4000  are exactly that. No huge umbrellas or building of the lights, you just plug in and flip on. It's super simple to use and they weigh next to nothing. If you're traveling, they fit in a suitcase or a carrying case that you can even take on a plane.
4. Rode Smart Lav ($75): 
Audio is usually the first thing that non-pros get wrong when shooting video. If you're making in-house videos, you'll need to make sure your audio situation is taken care of. Typical professional audio setups require a variety of different pieces of equipment: the mic, the cables, the audio recorders, the SD cards, and more. If you're just trying to make quick videos for the company YouTube channel it doesn't make sense to get all these things. The Rode SmartLav is a super simple lavalier microphone that clips onto your shirt and runs right into your iPhone. And when you download the SmartLav app, it turns your iPhone into a full blown audio recorder. This is the easiest and most straightforward way to capture great audio without all the complications.
5. Final Cut Pro X ($300):
Most editing programs are designed to be able to edit huge, complicated projects. This can make them complicated, hard to learn, and bulky. If you're making quick content marketing videos, you'll need a software designed for prosumer video editing. This is Final Cut Pro X. FCP X is the best software for people wanting to make high quality videos in a quick and easy workflow. It's Mac-based so you might need to invest in a mac station in order to use, but it's user friendly interface gives you the ease and simplicity of iMovie with the capabilities and power of Adobe Premiere. It's a perfect investment for the in-house marketing manager turned video producer.
6. Pixel Film Studios ($30ish):
Once you have FCP X, you'll want the ability to make awesome motion graphics and effects without putting in years of training. Well look no further than PixelFilmStudios.com. This site is full of awesome FCP X plugins that will have you making slick titles and animations in no time. Be careful though, there are a lot of plugins you can buy and before you know it you might spend a ton of money grabbing things you might not need. Make sure that you really need the plugin first before buying. I recommend starting with a title plugin (to make simple titles for your video) and also a transition pack to give your videos a consistent transition aesthetic.
These two sites are the best marketplaces for royalty free music. PremiumBeat offers premium music with an awesome interface to browse and listen. The songs are a $49 but include loops and other perks that make it worth the investment. AudioJungle.net has more affordable songs, and a larger library but it can be a bit harder to find the song you're looking for.
You might be doing mostly interview based videos or videos where you have talent or staff hosting the video, but sometimes you'll want a voice over to narrate your video. Instead of having Joe down the hall record something on his iphone mic, voicebunny.com is a simple marketplace for getting professional voiceovers, quick. Sort of like Uber for voiceovers, you can submit your script to a library of thousands of different voice talent, hear auditions, and choose your favorite. Costs range depending on the talent you pick. Totally worth it!
9. Fiverr.com ($5):
Love it or hate it, fiverr.com can still be an awesome tool for getting things done on a budget. There's a whole section on fiverr for video production and while you might need to weed through a few hundred bad listings, you can find some solid animation, voice over, and editing talent on Fiverr. And if you've been living under a rock and you don't know what Fiverr is, it's basically a place where you can get ANYTHING done for $5, and I mean ANYTHING! Be cautious of deadlines though, if you are going to test a Fiverr user for a video product make sure it's not a mission critical deadline, as you never know with Fiverr.
10. Movavi Screen Recorder (Depending):
Many companies, especially SaaS providers need to be able to give demo's and instructionals of how to use their products. Movavi is a simple tool for doing voiceover and screen recordings at the same time, allowing you to make app and website instructional videos very easily. You can even drag and select what parts of the screen you want to record. If you have a Mac, you can also do this using the QuickTime app, but it's a little more tricky to navigate. If you're doing a lot of these videos in-house, it might make sense to invest some extra buck and grab the Movavi Screen Recorder.
—
So there's 10 underrated tools that can make things a ton easier on your marketing team. If you have the budget, grab them all, but if not try one at a time. Also, find your pain point and get the tool that fits. If you're having trouble editing, then invest there. If shooting is your weak spot, invest there. Whatever you do, if you're not a high level pro, always find the simplest, fastest tool to get your video done with as little steps as possible (without totally sacrificing quality) – and save your big productions for the pros!