Detroit Video Production Company
In an industry that allows for remote work we are proud to serve clients worldwide from our Detroit, Michigan offices.
Detroit is "America's Best Comeback City", but to us it's home. We love the midwest and we're committed to the business community of Detroit and the surrounding area.
Content is the future of marketing, and we feel it's our responsbility to help Detroit's marketing community excel by creating amazing video assets and helping them market and advertise it in the right way. It's not enough to "follow the trends" of marketing, you have to be the trend.
At Clum, we help you look the best, and be the best by being your partner for all things video & more. Oh, and we're where you're at, when you need us.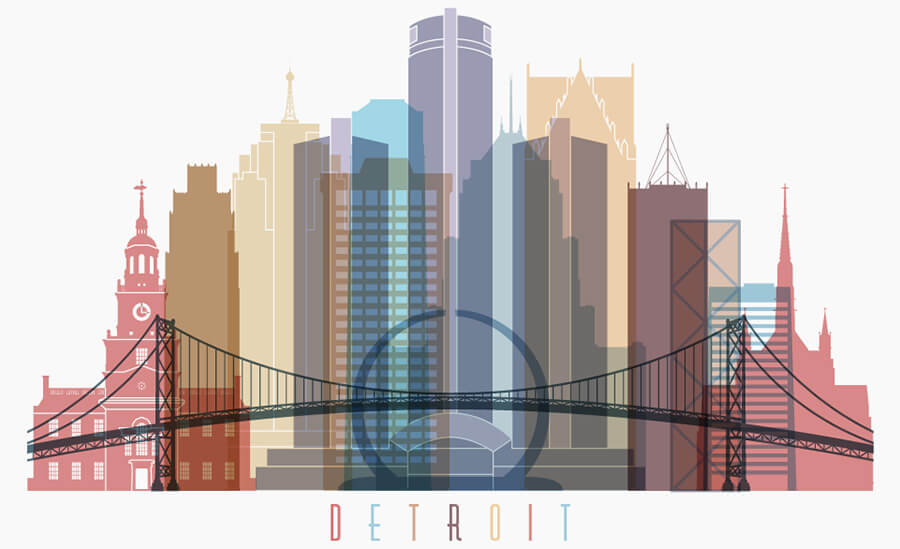 Dedicated Detroit Account and Project Managers
Our Detroit account and project managers will work with you every step of the way. The way we serve you throughout our engagement is what really sets us apart. Your account and project manager will be available for you 24/7, but most importantly is the expertise they bring to the table. Over the years we've developed processes that allow us the get things done quickly and efficiently while communicating the whole way.
Meet Our Team
What they are saying:
Our clients share what it's like to work with us. 

100's of clients of all sizes
all around the world. 
King Nut Companies
★★★★★
"
We hired Clum Creative Media to produce a new corporate video. I was very impressed by their professionalism and their talent. I thought I knew what I wanted in this video. Mike had a different idea. I was smart enough to listen to him because the video turned out excellent.
"
Group Management Services
★★★★★
"
Clum Creative is a excellent choice in video and other marketing projects. We hired them to produce an electronic presentation piece and some customer interaction videos. They took the project and provided excellent feedback, insight and timely delivery. I would highly recommend them
"
-
Tim Austin, VP of Sales and Marketing
TT Electronics
★★★★★
"
I can say from experience, Clum Creative is one of the most innovative, passionate, and results oriented media companies that I've ever worked with. Mike Clum and his team of professionals are without question, leading the next frontier of marketing and video production. they took the time to really understand my vision and business objectives, From helping us distill the right messaging, to literally traveling across the world for the best shots of my facilities – Clum stopped at nothing to ensure success. The end result was a powerful brand video that will stand the test of time and allow us to stand out from a crowd of 4,000 competitors unlike ever before. I expect the video to have a direct impact on lead generation and ultimately, revenue growth, making our investment in the video a no-brainer. Clum brings ideas to life with an unrivaled level of dedication and creativity.
"
-
Katelyn Devan, Marketing Manager
Ecolane
★★★★★
"
Clum's project management is superb, start to finish the team is with us every step of the way… super-professional, on time, and on budget. Mitch Silvius is easy to work with, responsive and adaptable, you can't ask for more in a creative agency. Working with the Clum team is a true pleasure and we keep going back to them again and again for our video projects. They bring our vision to the screen, enabling us to reach our audience with one of the most impactful mediums of communication.
"
Meyers Roman
★★★★★
"
I hired Clum Creative to do a 2 min general marketing video for my law firm. It turned out great. From start to finish it was a fun project. I would highly recommend their services to any business looking to create highly professional and actionable videos.
"
Beyond Design
★★★★★
"
Clum Creative contacted Beyond Design a few years ago about collaborating together on a video for Beyond Design. At that time, we had no use for it, but realized that this would be a perfect time to work together on making a well-rounded and detailed video for marketing purposes. Our goal was to create a marketing video that explained our core capabilities and deliver a positive and fun message about our design firm as a whole. Clum Creative worked extremely well together and understood our end goal of why we wanted the video. Everyone that we worked with was super easy-going and definitely put in the time and effort to deliver us a perfect video. Mike Clum, President of Clum Creative, was nice, easy-going and friendly. He became a familiar face around the office and put our office staff at ease when filming. His preparation and dedication to making us a great video proved to be the best solution as far as choosing a production company to shoot our video. Everything was great and the collaboration and insight from Clum Creative was really gratifying. Everything comes across as "real" and there is a definite attention to detail – along with great use of audio with the combination of editing shots is terrific. Our website is a huge part of attracting new clients, as they like to Google search "product design firms" to help them find local firms. Since the video is right at the top of the first page on the website, we feel that we will get massive amounts of traction from viewers clicking the play button. There's something about the look and feel of the video that portrays Beyond Design as a prominent product design firm in Chicago, but also allows viewers to truly understand us as individuals. We're a fun, young, intelligent group of people and who wouldn't want to work with us? Clum Creative shot an amazing video that delivers that key message of why were the best to work with. Clum Creative will work with you to understand your business and provide you with a creative solution when developing a video for your specific needs. All hands will be on deck, giving you nothing but the best from Clum Creative.
"
Let's Create Something Amazing
That delivers you results you care about.