If you're looking for small, top-notch film schools, you've come to the right place.
While there are broad and diverse ranking factors for fields of study and majors, we considered film schools with undergraduate enrollments ranging from 350 to 10,000 students.
Schools in this list are a great help in getting work at a video production company, which you can see a list of top companies at DesignRush.
The below schools are communities where enthusiastic filmmakers receive one-on-one training that can help launch their career in the industry. These schools have programs that range from very hands-on, intensive programs for filmmakers, to the more traditional, yet smaller college or university that has a stellar film program.
Many of the schools prepare their graduates for careers in film production, photography and the visual arts. Studying the core principles of filming, editing and production can lead students to find career paths with "major film companies, news studios, and advertising agencies or pursue self-employment."
And the award for Top Film Schools 2018 goes to …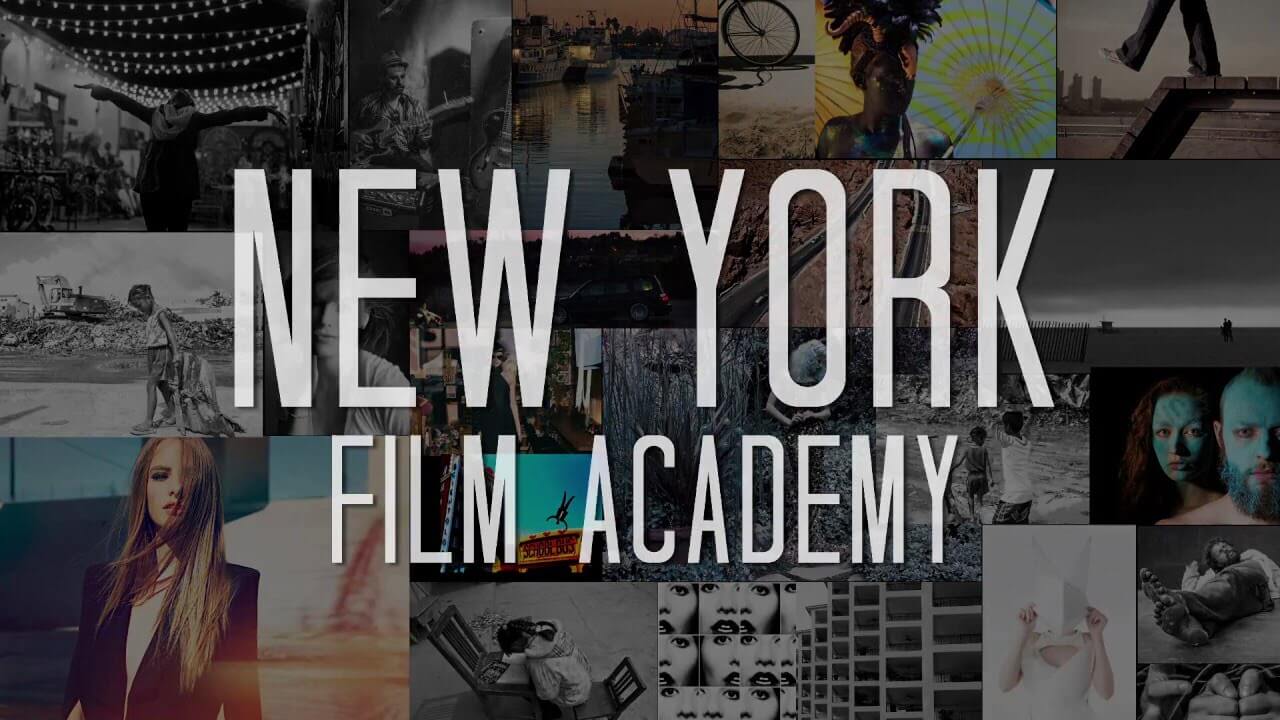 The New York Film Academy (NYFA) is for a new generation of storytellers: passionate visual and performing artists who want to learn by doing in a hands-on, intensive environment.
NYFA is honored to be the school of choice for many Hollywood filmmakers' families, including Steven Spielberg, Martin Scorsese, Al Pacino, Robert Downey Jr., Jamie Foxx, and Jodie Foster.
Students from over 120 countries take NYFA's accelerated degree, conservatory, or workshop programs, with campuses in New York City, Los Angeles, and South Beach, Miami; Gold Coast and Sydney, Australia; and a year-round location in Florence, Italy. Summer workshops are offered worldwide.

The Colorado Film School, located in in Denver, CO was recently named one of the top 25 film schools in the world. Students earn Certificates, AAS, and transfer out for bachelors degrees.
"All CFS students begin with a set of Core courses that provide foundational understanding across all disciplines, encouraging a deeper understanding of the entire film-making process." The film school focuses on six core topics:
Screenwriting
Writing / Producing
Writing / Directing
Acting / Directing
Cinematography
Post-Production
Colorado Film School has only 350+ students but produces close to 1,000 films a year.

Their mission is "To provide a select number of outstanding students with an unparalleled education complete with all of the skills and professional connections needed to succeed in today's thriving and competitive creative industries."
LCAD's liberal arts studies are augmented each semester with "special guests who interact one-on-one with their students. For example, our World Cinema class has hosted Barbara Schock (Academy Award-winning writer/director/actress), Mary Iannelli (TV costume designer), and Michael Schiffer (writer/producer of Colors, Lean on Me, Crimson Tide, Very Bad Things, and the video games Call of Duty, Call of Duty: Finest Hour, Call of Duty 2)."
Program overview: Becoming a good artist or designer on a technical level requires learning how to be a keen observer — of light, color, form, balance, design. But becoming a great artist or designer requires one to be a keen observer of the world, of its inhabitants, of one's self.

Cogswell offers degrees in Digital Art & Animation, Game Design & Development, Digital Audio Technology, Digital Arts Engineering and Software Engineering.
The combination of the digital arts, engineering, technology and entrepreneurship – along with a broad foundation in general education – means that Cogswell's students are prepared to move quickly into the converging global digital media industries, as well as into professions that are changing almost daily.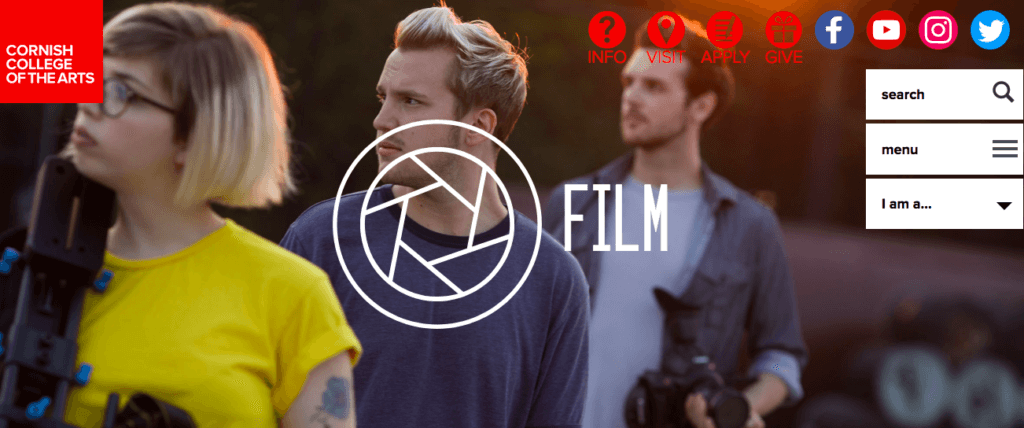 Located in Seattle, the Cornish BFA film program will give you the "skills, portfolio, and connections you need to thrive as a visionary filmmaker.
Led by Lyall Bush—well-known Seattle writer, editor, and producer—you'll pursue both the art and business of filmmaking across a wide variety of platforms, so you'll be ready for wherever your creative vision takes you."
Cornish College of the Arts offers a bachelor of fine arts in film.

With less than 800 students enrolled, UNCSA is ranked among the best film schools in the country. The school of filmmaking is their youngest and most distinctive program.
"In your first two years at UNCSA, you will direct and shoot as many as six digital films as you take hands-on courses in every facet of modern film production. Then you'll choose a concentration — directing, producing, editing, animation and more — and collaborate with classmates on ambitious 16-mm shorts submitted to film festivals around the world."
The school's dean is Susan Ruskin, who worked in development for George Lucas and produced for Gilda Radner. One recent screenwriting alumna (2011) landed her dream job writing for the popular show "This Is Us."

"MCAD filmmaking majors try it all: writing, directing, producing, shooting, editing, and occasionally even acting. This program helps you hone your personal style and bring your vision to life—whether it's a music video, documentary, feature film, or something else entirely."
As a Filmmaking Major You Will:
Master the structure of a variety of motion-picture projects
Create films that shape experience, question perception, and transform the world
Acquire real-world experience through internships and production opportunities
Gain foundational skills in a variety of creative media
Acquire the skills and knowledge for a professional career in filmmaking

CalArts is located in Santa Clarita, CA (north of LA). The school supports a full array of moving image/sound approaches with the overall goal of fostering "total film/videomaker artists."
Their total student enrollment for Fall semester 2016 was 1,459, with Film/Video making up 27%. If you like a smaller class size, the average class has between two and 20 students. Some of their notable alumni include: John Lasseter, Brad Bird, Kirby Dick, Tim Burton, Brenda Chapman (co-director of Brave and the first woman to win an Oscar for an animated feature), and more.

Bachelor of Fine Arts (BFA) students at Ringling College of Art & Design "learn the ins and outs of working on a professional film set through a number of projects that connect students with industry professionals and require both team collaboration and use of their developing technical skills."
The students are involved in every aspect of filmmaking, from screenwriting, cinematography, directing and editing. They graduate as expert storytellers with their development of screenwriting, demonstrated through their final product.
Recent projects include:
13 students worked with Tim Sutton on Dark Night
Dylan McDermot piloted web series, Sugar, with help from Ringling College film students
Students are working with Justin Long on new web series
Kevin Smith is currently shooting his horror film, Kilroy Was Here, with the students

CSS, located in Detroit, provides students with the skills needed for a career in the "creative industries". All undergraduate students take liberal arts and foundation courses.
The foundation program introduces essentials in drawing, design concept, digital fundamentals, and materials and processes.
"Entertainment Arts at CCS prepares you to join the next generation of storytellers with Hollywood insiders who show you how to master the latest software and equipment used in the entertainment industry."

ArtCenter offers two locations in Pasadena, CA where "students receive a strong foundational instruction in all aspects of storytelling for screens big and small. They then choose a specific track: cinematography, editing or directing. Upon completing the program, graduates will have had the opportunity to write and direct a film and develop a reel of individual work."
It's one of the few schools that lets students retain rights to the work they make on campus. "The school doesn't baby you," says filmmaker Saman Kesh ('11), attached to direct Cube at Lionsgate and Controller at Fox. "It's like a mini-industry when you're there." [source]

With a student/faculty ratio of 10:1; film, animation and video (FAV) students can explore the art of the "moving image" in an intimate setting.
In the studio, FAV majors "bounce ideas off each other while focusing on making documentary, experimental and narrative films or animated work using a wide range of techniques, from CGI to hand-drawn to stop-motion animation and more."
FAV majors work in "live action, animation or a hybrid of the two, and have the option of producing films in a wide variety of genres."

DigiPen offers undergraduate degrees in the areas of computer science, game design, animation, engineering and music & sound design. They earned a No. 3 ranking on The Princeton Review's just-released list of the top 50 undergraduate schools for game design for 2018.
A BFA in Digital Art and Animation from DigiPen will give a student the powerful skills to produce imagery in a studio environment. They will possess:
Extensive production experience in both 2D and 3D animation
Excellent drawing skills
Strong storytelling abilities
Familiarity with modern studio processes
Professional work habits and attitude
Some of the roles that BFA grads have assumed are 3D lighting and camera design, character animator, effects animator and storyboard artist.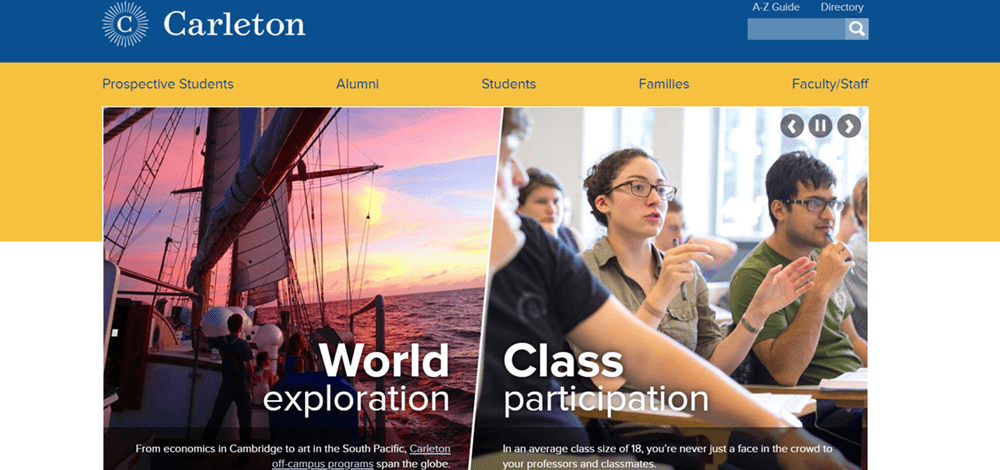 "The Cinema and Media Studies (CAMS) major combines the critical study of moving image and sound media with digital video and audio production. Courses range from global and Hollywood film studies to fiction and nonfiction filmmaking, animation, television studio production and genre studies, moving image media installations, and writing for film and television.
The integration of theory and practice is a guiding principle in the formulation of the curriculum, reflecting a liberal arts philosophy in which theory and practice are mutually informing."

A Bachelor of Science in Film from Full Sail entails studies in preproduction, production and postproduction, with courses in broadcast production and visual storytelling.
Their philosophy centers on the "value in creative thinking and the importance of hands-on experience. They put this into action with an approach that emphasizes problem-solving, learning by doing, and empowering our students to generate their own concepts and ideas."
Full Sail was named the "School/College of the Year" in 2008 and 2011 by the Florida Association of Postsecondary Schools and Colleges.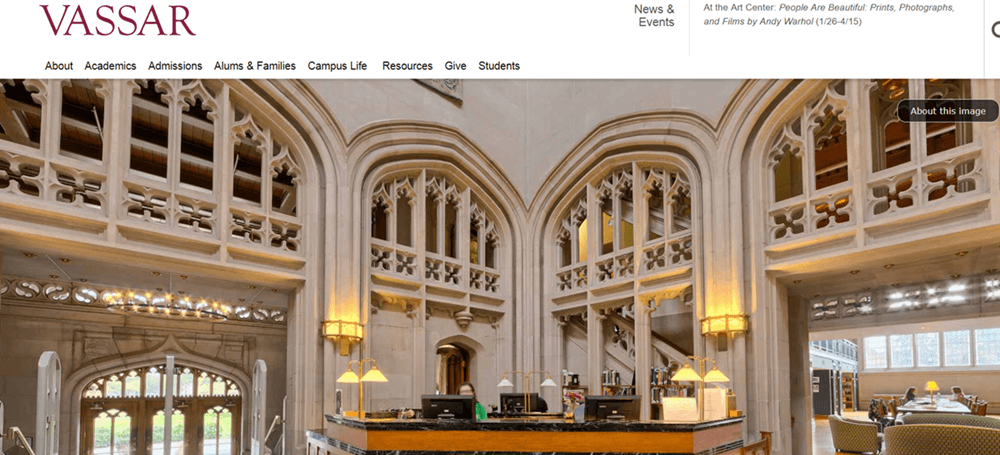 Vassar is consistently ranked among the top liberal arts colleges in the country. And one of the first liberal arts colleges to create a broad film major.
Students study film history and theory, as well as screenwriting for both short and feature films. They offer a BA in film studies and filmmaking. Vassar students are frequent "award winners at festivals such as Cannes."
A quote from one of the filmmakers, "The glitter and excitement of Cannes, meeting all those movie people, that was great. But I want the film to make a difference."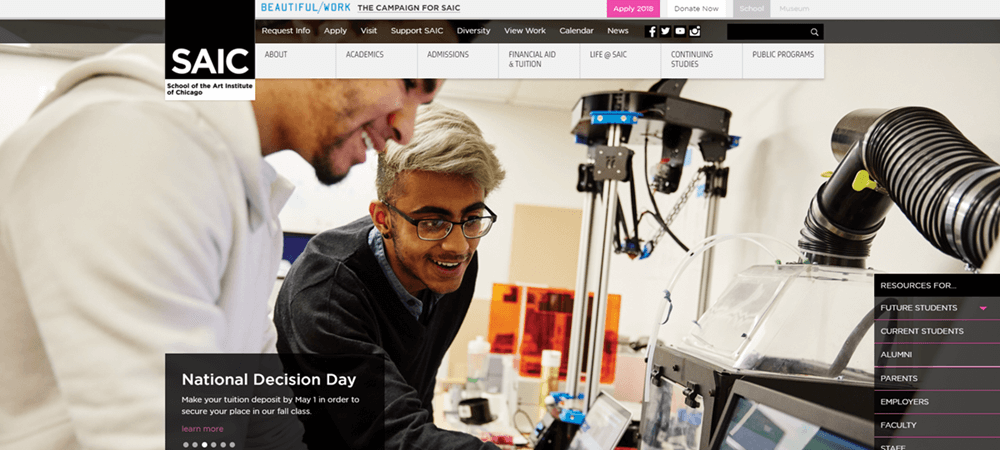 The School of the Art Institute of Chicago (SAIC) is was named one of the "Top Graduate Fine Arts Programs in the Nation" by U.S. News and World Report.
The Film, Video, New Media and Animation (FVNMA) department is "dedicated to helping you develop your art practice in a variety of forms and contexts including the use of high definition video, new media art, experimental 3D animation, hand-drawn animation, and filmmaking."
Students have access to state-of-the-art shooting, editing and production equipment. SAIC prides itself on the Gene Siskel Film Center, which offers approximately 1,500 screenings, 100 guest artists and 65,000 attendees each year.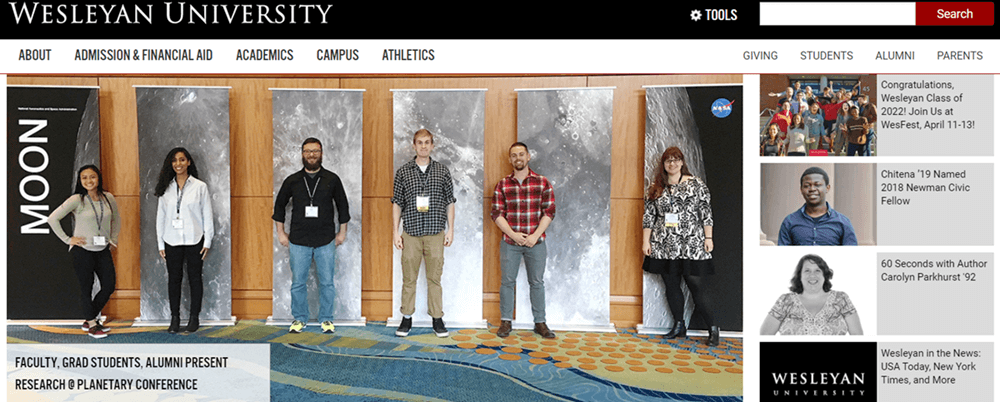 Wesleyan is a strong liberal arts university in Connecticut that embraces creativity and independent work.
"All film majors study the motion picture in a unified manner, combining historical, formal and cultural analysis with filmmaking at the beginning and advanced levels in 16mm film, digital video and virtual formats."
"The college approaches the moving image as an art in all its various forms, whether fiction, documentary, experimental, live-action, or animated, and in all its various venues, whether in cinemas, on television, in galleries, on the Internet, or on consumer/home formats."

Los Angeles Film School offers degrees in film, audio, animation, music, graphic design and entertainment business. Their bachelor's degree programs include production, cinematography, directing and producing.
Alumni from the school went on to work on several films that won Oscars this year (2018). They also worked on "Fences," "Arrival," "Moana" and "Land of Mine."

Pratt Institute, located in New York City, prepares its students for successful careers through its schools of art, design, architecture, information and liberal arts and sciences.
"With a firm grounding in the liberal arts and sciences, a Pratt education blends theory with creative application in preparing graduates to become leaders in their professions. Pratt enrolls a diverse group of highly talented and dedicated students, challenging them to achieve their full potential."

Also located in New York City, the School of Visual Arts New York (SVA) offers a hands-on program where students create films for all four years.
Students in their senior year get the opportunity to work with a mentor to create a thesis film or animation. The works are premiered at SVA's annual Dusty Film & Animation Festival. Since this event is attended by guests from the film and animation industries, students could possibly be discovered for their talent in film.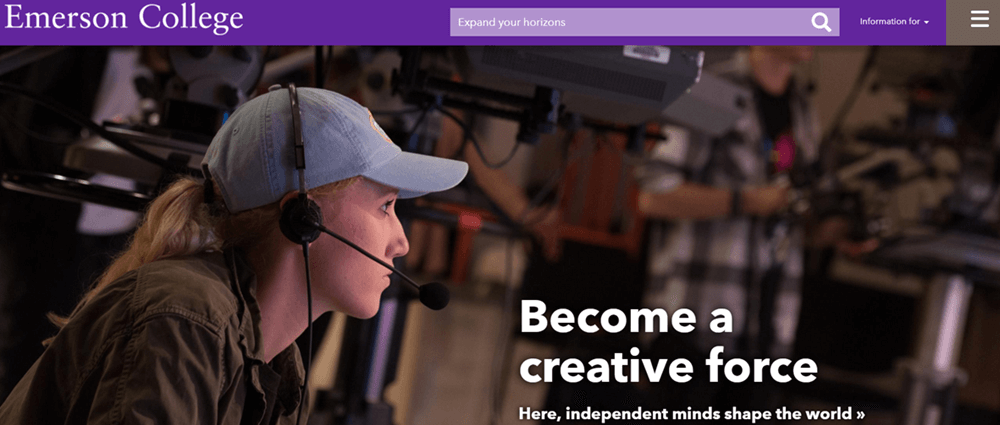 Emerson College, located in Boston, loves the concept of learning by doing. Their undergraduate programs (BFA) include acting, creative writing, media arts production, stage and theatre.
The Emerson College Film Festival screens students shorts in their screening room.

With more than 5,000 undergraduate students, Yale's Film and Media Studies Program has become one of the best programs for film and media study in the world. The program offers concentrations in both filmmaking and screenwriting.
The Yale Film Study Center offers a collection of films in many different formats exclusively for their students. Their mission "supports teaching, learning, and research, and fosters a robust film culture at Yale through collection, preservation, access, and exhibition."
Students who major in film and media studies learn "how to make and how to analyze films and digital images, usually beginning with a core course in film grammar before moving on to look at the new media."

Located in the heart of New York City, Columbia University School of Arts offers film, theatre, visual arts and writing.
"The School is renowned for the global success of its alumni in film and television. They have received top prizes at Sundance, Cannes, Venice, Berlin and the Academy Awards.
The MA Film Studies program and the undergraduate Film Studies major give students a unique opportunity to study film history and theory in the midst of an active filmmaking community."

Ithaca College has been recognized as one of the "Top 25 Schools for Film by the Hollywood Reporter.
"The college's film program is part of the Roy H. Park School of Communications and includes undergraduate degrees in cinema and photography; documentary studies and production; film, photography and visual arts; and writing for film, TV and emerging media."
Their goal is to provide students with the skills and background they need to expand and express their creative vision and develop career skills in multiple visual media.

With programs in animation, film, television, media studies and screenwriting, Loyola Marymount University (LMU) offers it all.
"The program provides the theoretical, historical and cultural frameworks inherent to the understanding of film as a medium and students apply their practical skills, whether they are directing, producing, filming, editing, writing and/or recording sound for films."
If screenwriting is the path students want to go, they have the opportunity to learn from professional screenwriters on the art of storytelling.

Southern Methodist University (SMU) is devoted to train and mentor students to become artists in film and media. The university offers connections to pursue careers in production with a large alumni base located in Los Angeles.
"Unlike many film programs at other universities, Meadows Film and Media Arts have the advantage of being part of the larger Meadows School of the Arts, an award-winning school encompassing 11 areas of study in the visual, performing and communication arts."

Emory University provides students with an intimate learning environment for up-close and personal mentoring. Their mission is to engage students to think critically about "the ways in which images and sounds create ideas."
Students study the history and theory of film and also offer foundational courses, including Intro to Media Studies and Digital Media and Culture.
Studying film at Emory University helps students understand the ways in which media communicate. Many alumni pursue careers in the entertainment industry such as TV networks, agencies and production companies.

The Department of Art & Art History at Stanford University offers degrees in documentary filmmaking and film studies. Students are exposed to film language, genre and visual and narrative structures.
It is harder than most film schools to get in, with only a five percent applicant acceptance rate. Stanford also offers an MFA program focused on documentaries.

The School of Communications at American University educates students on how to master the ever-evolving media environment and works with local media to provide student internships for real-world application.
Based in Washington D.C., the study of media production is concentrated in one of three areas: Environmental and Wildlife Filmmaking; Political, Cultural, and Social Impact; and Art in Entertainment.

The goal of the Cinema Art and Science BA in Filmmaking program at Columbia College Chicago is "to provide students the opportunity to make short films through collaboration, analysis, technical skill development and practice."
"At Columbia, you're really provoked to do, rather than learn theory and learn how it's supposed to work," said Alumni Kyle Heller, whose Cinematique was named one of the "World's Top 10 Most Innovative Companies" in 2015. "You're really pushed out there to shoot and make films."

With student enrollment still under 10,000, Chapman University is located close to Los Angeles and students have access to Hollywood internships.
"Dodge College of Film and Media Arts offers an array of undergraduate degrees that address the rapidly changing entertainment business, so you learn not only how to tell a story, but what it takes to pitch, produce, finance, market and distribute the stories you want to tell."
Chapman has been ranked one of the "Top 10 Film Schools" by Hollywood Reporter.

"Northwestern's School of Communication is one of the few places where students can find a comprehensive program in performing and media arts, including dramatic writing, film and television production, design for interactive and digital media, acting on stage and on screen, sound design and studies, theatre design and directing, theatre history, music theatre, and dance."
The Department of Radio/Television/Film explores the history and theory behind film. It explores and teaches the production of media from cinema to broadcast television to alternative media to emerging technologies.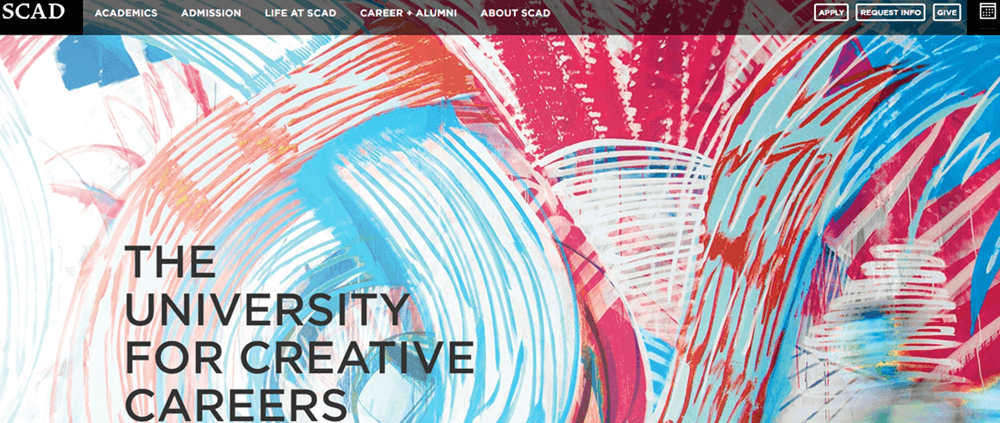 "As a student of film and television at SCAD, you'll acquire diverse technical skills, center yourself as a solid creative and step seamlessly into your professional film career."
The only school on this list that produces its own streaming sitcom; every quarter a new episode of The Buzz — a sitcom where of college graduates hang out in a coffee shop — is produced, directed and edited by a different set of students and streamed on the school's website.
Back to You
These film programs and departments prepare students to enter the next generation of great filmmakers.
Did I leave a school off the list that is important to you?
Let me know.
Leave a comment so others can benefit.