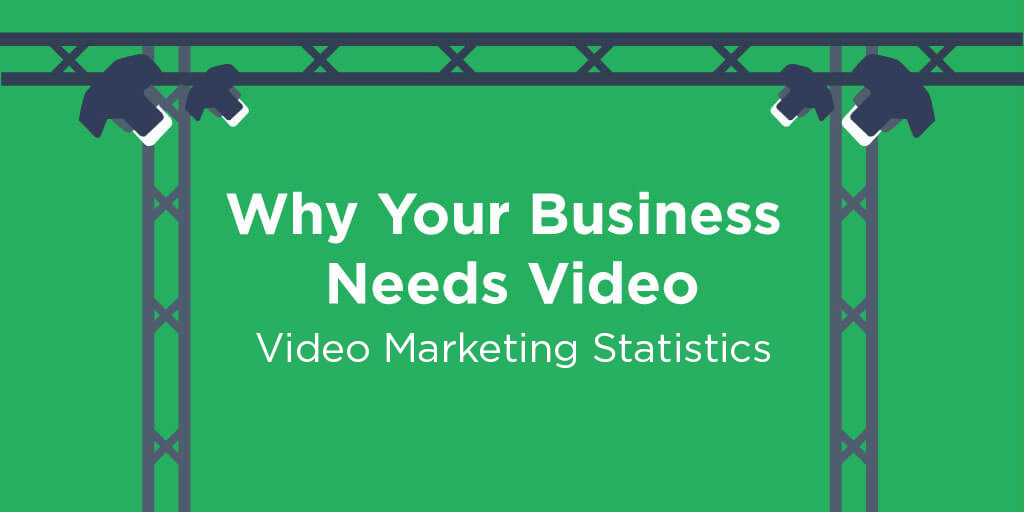 If you're serious about content marketing, you need to incorporate video into your business strategy. Don't take my word for it though. Take a look at these mind-blowing video marketing statistics that will have you creating a video today.
Why?
Because it's effective.
Video marketing has been switched from dabbling in it to an essential strategy. Video can no longer be ignored. It is the future of content marketing.
Why video can no longer be ignored for content marketing…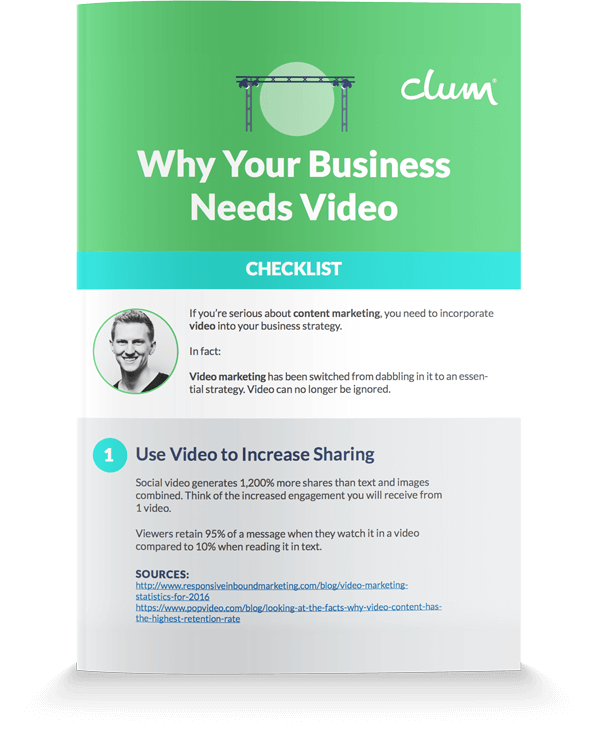 Like the infographic? Share it:
Here's my take on the video marketing statistics from the infographic:
Statistic #1
Videos are Shared 1,200% More Times Than Links and Text Combined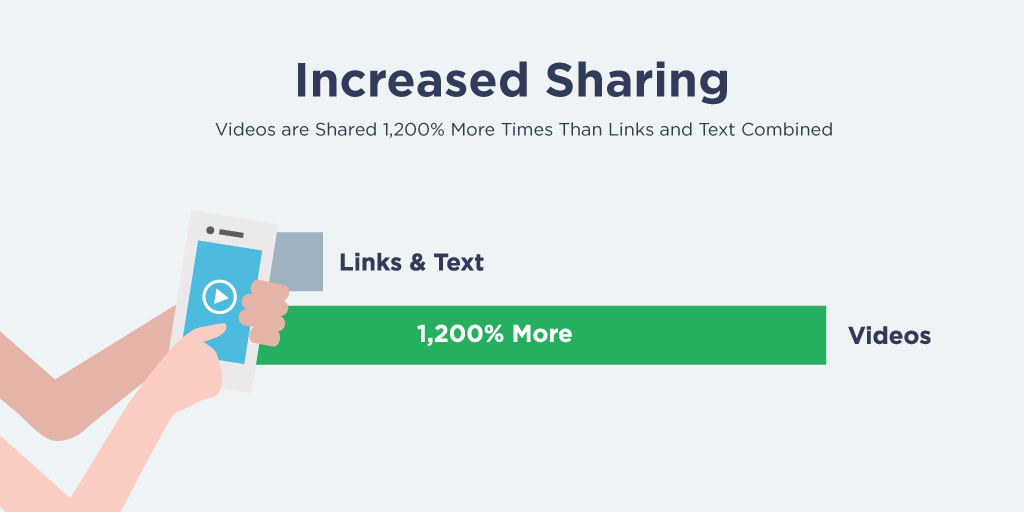 Video marketing is not new but it's certainly grabbing the attention of many with the use of the internet and smartphones.
Think about it…
Human attention spans are less than that of a goldfish, highlighting the affects of an increasingly digitized lifestyle on the brain. A video is quick to the punch while striking an emotional bond. People want instant gratification and they get it with the visual and sound elements a video offers. Text — well, is text. Nothing really stimulating.
Not too long ago, it was the faceoff between visual content and text content.
Who won you might ask?
It was all about the visual presentation that mattered.
Visual information can be processed 60,000 times faster than text and is easier to remember.
The use of images was and is important for more than the obvious appealing reason. The use of whitespace on blogs to focus your visitors on your content, not your clutter. And using bullet lists to make your content more skimmable.
While this is still true today; we need all of those attributes, a great video will keep your readers entertained and on your page longer. It will also have them sharing your video on social. "Social video generates 1200% more shares than text and images combined". Think of the increased engagement you will receive from 1 video.
Remember what I said, you only have a few seconds to grab someone's attention and keep it.
Viewers retain 95% of a message when they watch it in a video compared to 10% when reading it in text.
Statistic #2
80 Percent of Global Internet Consumption Will be Video Content by 2021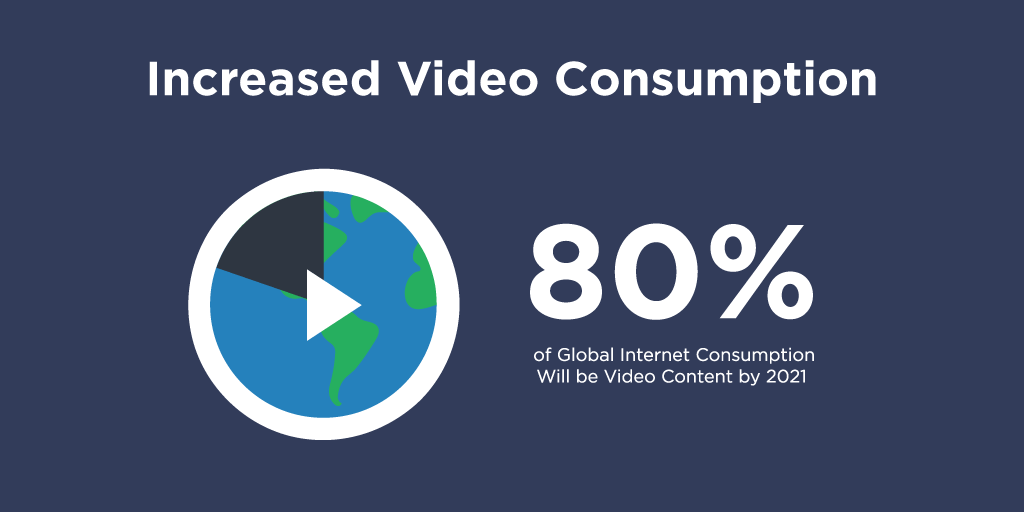 Cisco has spoken. In its most recent video marketing statistics, Visual Networking Index Forecast, "video will continue to dominate internet traffic with 80% of global internet consumption derived from video."
The report goes on to say…
Video will represent 82% of all IP traffic in 2021, including consumer and business IP traffic, amounting to a million minutes of video transmitted through networks every second.
Specific video formats are poised for growth. Live video is expected to grow 15-fold, from 3% of internet video traffic to 13% by 2021.
Mobile video is growing faster than TV
What does that mean for the average business?
Video is taking content marketing by storm. "With online video quickly becoming a key means for people to satisfy their information and entertainment needs, small businesses that fail to include it in their internet marketing strategies will do so at their peril."
For businesses, there are online strategies and more channels for their products to be found by their consumers. Businesses and marketers alike, that adapt to the growing trend of video, will best position themselves to keep their current audience engaged and generate new audiences.
From Hubspot, impact to marketers: "We've seen a lot of data pointing to growth in video. Everyone is watching it, which means most marketers will need to step out of their comfort zone and consider creating video content. As millennials, who officially are the biggest generational group in the United States, accumulate greater spending power over time, marketers will have to really tackle the video channel to best reach this new class of consumers. Those who test and perfect their video strategies now will have the best chance of success in the future."
Statistic #3
Video Drives a 157% Increase in Organic Traffic From SERPs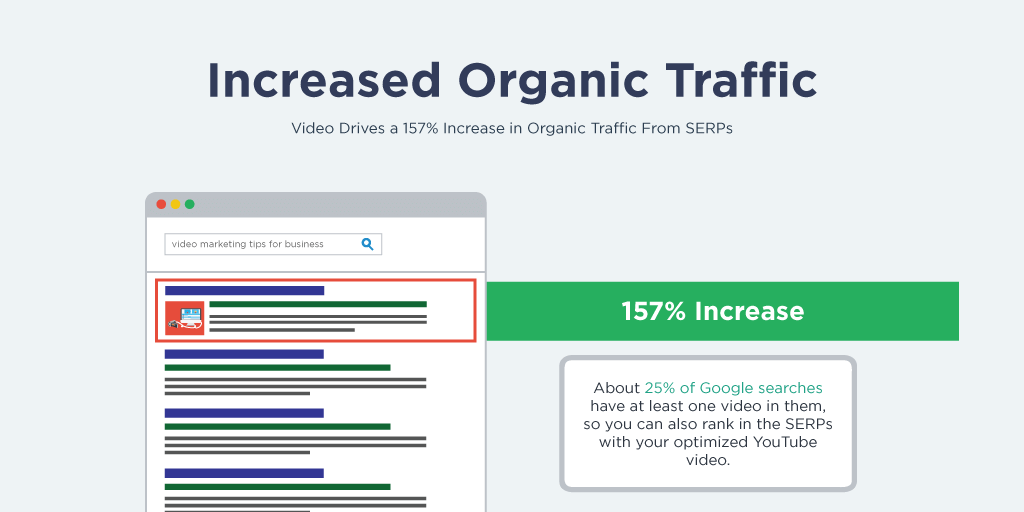 About 25 percent of Google searches have at least one video in them, so you can also rank in the SERPs with your optimized YouTube video.
We already went over the fact that video content is eating up 80% of all internet traffic and moving fast.
Have you noticed the results you get from Google when you type in a "how-to" query?
You probably get a featured snippet.
"When a user asks a question in Google Search, we might show a search result in a special featured snippet block at the top of the search results page. This featured snippet block includes a summary of the answer, extracted from a webpage, plus a link to the page, the page title, and URL."
It may be followed by other recommended sites or a video on the first page.
Or there may be a suggested clip that appears…
Sometimes not just a YouTube video, but a suggested clip for the video highlighting the exact time they want you to watch.
Let's keep it simple…
In google search type in: How to tie a lace youtube. Here's what you will most likely find: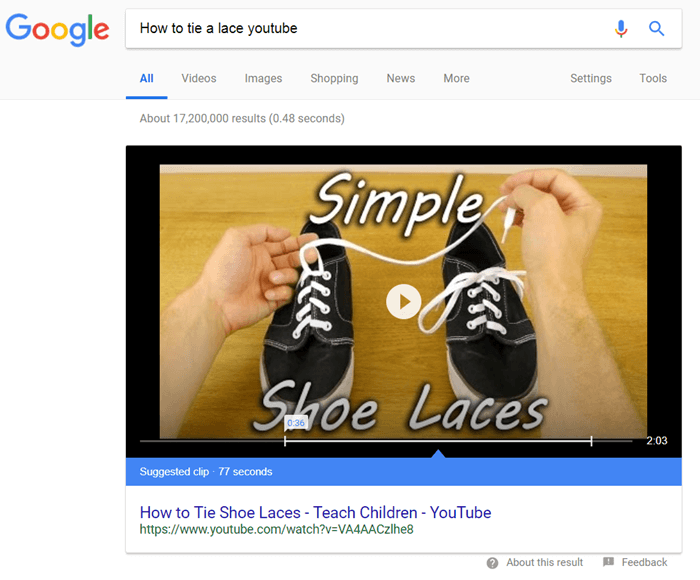 Pretty cool!
Read more: Google tests "suggested clip" in search results where video jumps directly to the answer. And you can trigger a Google suggested clip video answer if you don't want to wait and watch irrelevant parts of the video.
Statistic #4
Embedded Videos in Websites Can Increase Traffic by Up to 55%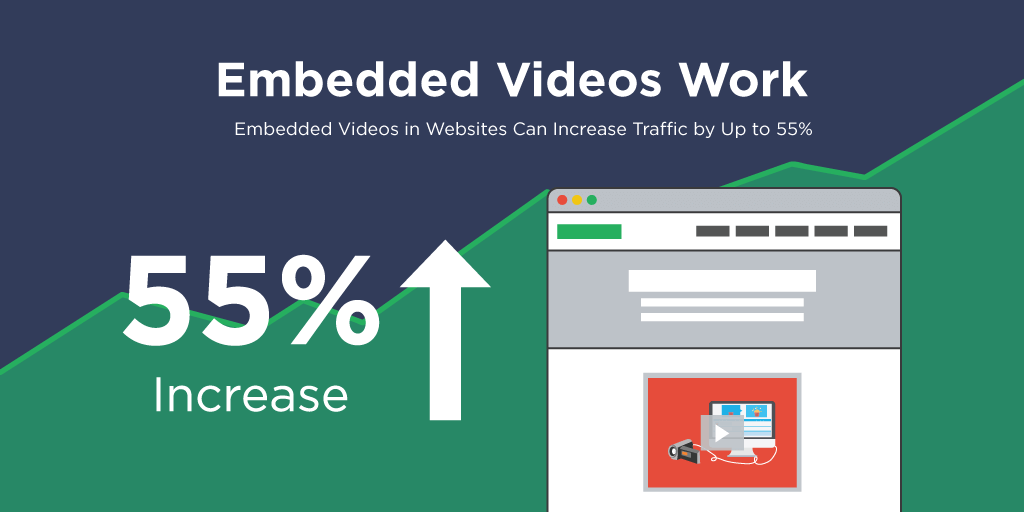 I showed how compelling suggested clips are on the SERPs.
Let's take a look at embedding a video on your website.
Embedding video into your website is an effective way of engaging visitors and making your brand stand out in a text-heavy internet world. Videos are easier to digest than text-heavy content.
Videos have the ability to deliver your message more effectively while educating and entertaining your consumers. They deliver information in a quick and easy manner.
Think of the options now available to you to embed a video into a web page.
You can grab a code from Youtube, Vimeo, and Wistia and upload to your site within seconds. Embed your video for a delivered return on investment. Including a video on your homepage can also increase conversion rates. (more of that in number 8)
Since Google owns YouTube, there is a significant increase in how videos affect your search engine rank. As digital marketing matures, it comes as no surprise that companies need to embrace video.
Customers who watch a video on a company's website will be more trusting of the company and will be more likely to purchase the company's product. Video Meets Web Design
Statistic #5
81% of People Have Been Convinced to Buy a Product or Service by Watching a Brand's Video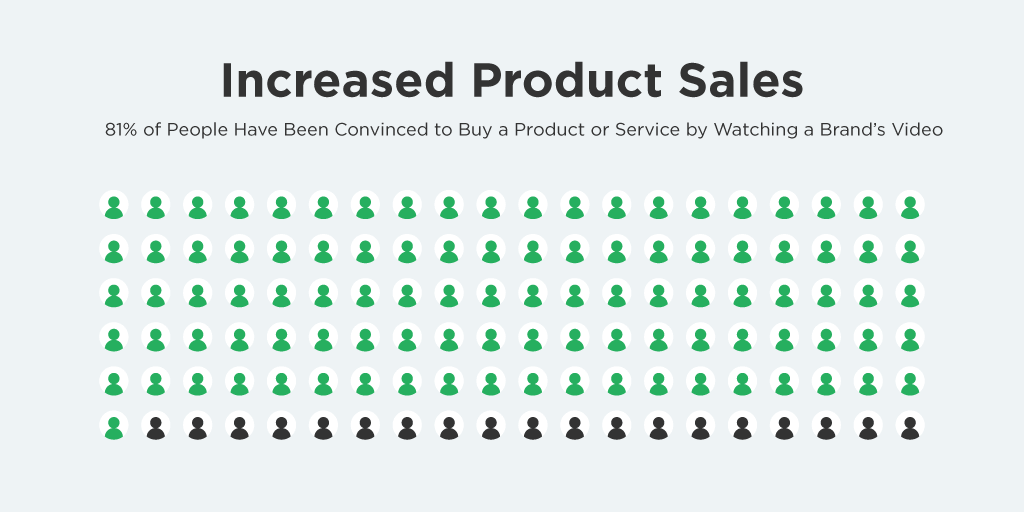 If you're still wondering what the best way to let your consumers know about your product, video marketing is the answer.
Wyzowl, the widely respected data source in the industry, just published findings for their 2018 "State of Video Marketing Statistics". In it, they revealed, "8 out of 10 people reported that video has directly led to them buying a product or service". It shows you just how much emphasis video has, as part of the sales journey.
Build a video map that will help you create a great video script. Each part of the "map" has a specific intent and will work to produce a smart video that will achieve your intended results.
Video holds huge potential for a brand. Video content promotes brand recall.
The fact remains, video marketing is easier for many users to remember than text-based content.
Statistic #6
44% of Consumers Prefer Learning About a Product via Watching a Video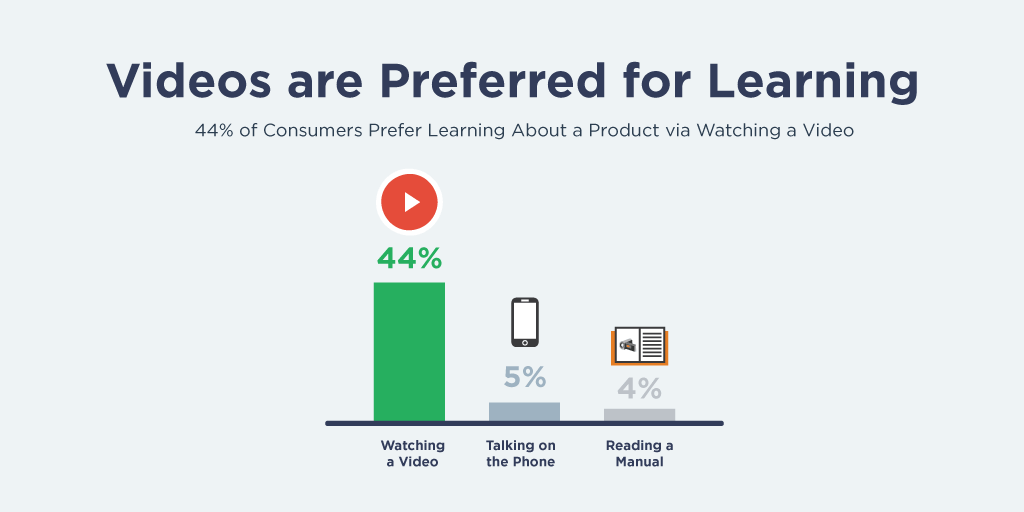 Did you know consumers don't like interacting with salespeople or reading a manual?
In fact, 44% of consumers prefer learning about a product by watching a video about it.
This is in comparison to a mere 4% that like reading a manual and 5% talking to someone over the phone. And like I stated above, 81 % have been persuaded to purchase a product or service by viewing a brand's video. 
What if your sales organization could have most of the convincing done before making a sales call? A video is a resource for your sales team.
Consumers watch product demos which is just as effective as seeing the product in person. Think about 360 product videos. It shows the different angles of a product. It will help cut down on returns because your customer has a better understanding of the product prior to purchase.
In the age of smartphones, transparency is key and more importantly, you need to be where your audience is.
A video is powerful. Combine video with your storytelling and you'll reach your company goals.
Statistic #7
Using the Word, "Video" in an Email Subject Line Boosts Open Rates by 19%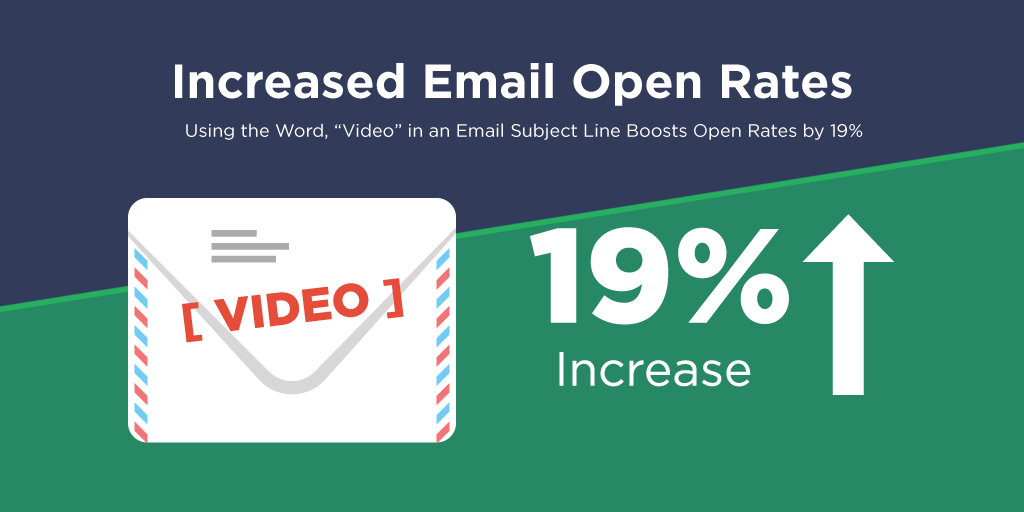 And click-through rates by 65% and reduces unsubscribe rates by 26%.
"Video is a such a powerful communication medium that simply using it in an email subject line gains more positive results."
Let's face it…
Subject lines influence whether or not emails get opened.
What are the advantages of using video in emails?
"The fact that we spend 29% of our time online watching videos shows that it can be a powerful tool for marketing. So why not combine it with the number one tool for marketing ROI?
A video is a good way of explaining something complex, particularly for new product launches. It can express the idea of your marketing campaign in a more engaging way for your subscribers as it appeals to more senses and involves movement. And with an average attention span of fewer than 8 seconds, you can get more of your message across than anyone could read in that time."
Statistic #8
8. Adding a Product Video on Your Landing Page Can Increase Conversions by 80%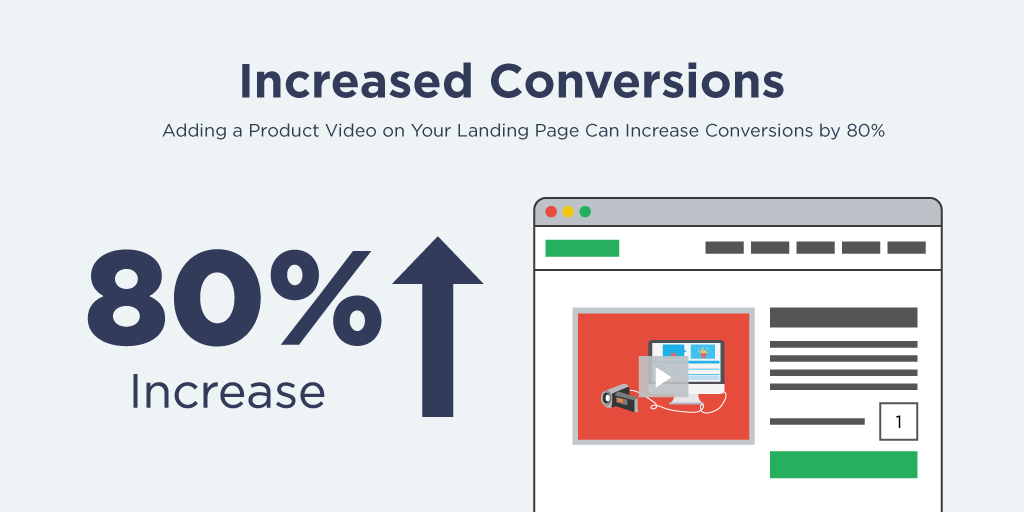 The job of your landing page, if done correctly, is to tell your visitors exactly what you want them to do and why they should do it. Adding product video is valuable and specific enough to reach even one viewer.
If your landing page is text-heavy and cluttered, it's probably not going to drive those desired conversions. Adding video can change that…
The benefits of using video on landing pages:
Videos increase the length of time people stay on your page, giving your brand message longer to sink in.
If you feature yourself or company employees in the video, the trust factor is raised significantly.
People are lazy and prefer to watch vs. read.
Your video will increase your brand awareness.
"A remarkable video on your landing page – one that resonates with your demographic and gets your business message communicated – can create a memorable experience. Videos can stimulate multiple sensory triggers – through both visual and auditory cues."
A video will show your product. It will convert your visitor to the next stage of the buyer's journey.
Statistic #9
9. Companies Who Use Videos in Their Marketing Grow Revenue 49% Faster Year-on-Year Than Those Who Don't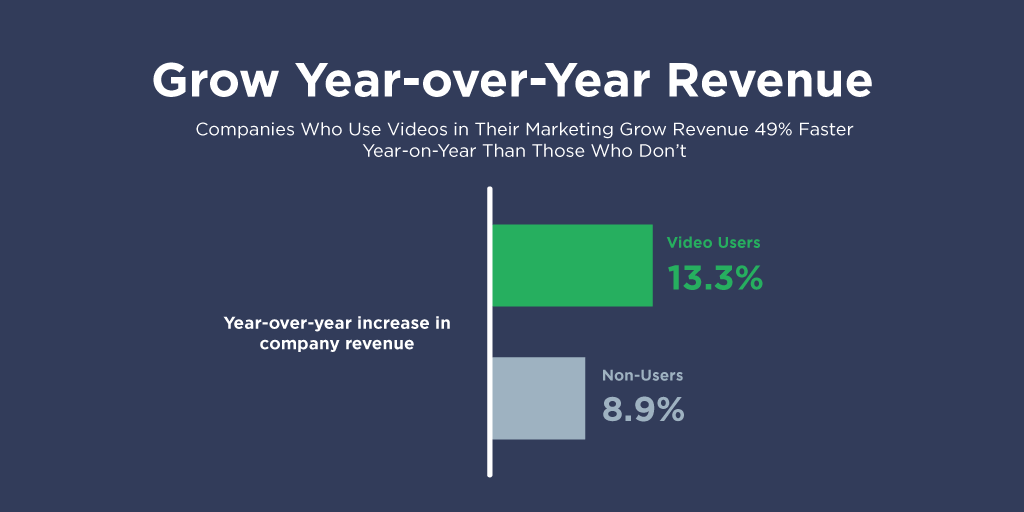 You've probably heard the term WIIFM before – "What's In It For Me"?!
This time it is ALL about you and your ROI.
According to Hubspot, 52% of marketers say video is the type of content with the best ROI.
Which is hands down the best because based on another study by Hubspot, video content is the preferred choice among consumers.
Followed by emails, social images and social videos and blog articles.
Why wouldn't you see a faster rate of return on video?
It captivates your audience with sight and sound (2 of our 5 traditionally recognized senses), it's responsive and emotionally stimulating and just "1 minute of well-crafted video content is worth 1.8 million words." (Forrester)
Somewhat of an outlandish video marketing stat but definitely thought-provoking.
But wait there's more…
Video Marketing Statistics From Other Infographics
Viewer's who like a company's video online are over 90% more likely to make a purchase from that company in the future. Users say that product videos are helpful in the decision process. [Infographicworld.com…]
66% of B2B organizations use video in some capacity in their marketing campaign, of which 73% report positive results to their ROI [Rendfx.com]
Enjoyment of video ads increase purchase intent by 97% and brand association by 139% [Rendfx.com]
The average internet user spends 88% more time on a website with video than without. [Adeliestudios.com]
59% of senior executives agree that if both text and video are available on the same topics on the same page, they prefer to watch the video. [DigitalInformationWorld.com…]
52% of marketers believe that video marketing is effective for Brand awareness, 45% lead generation, 42% online engagement [DigitalInformationWorld.com…]
Video Marketing Statistics From Google News
2x your traffic this year with Video SEO [Search engine Journal…]
The average person watches more than an hour and a half of online video content per day, with around 15% averaging more than three hours. [Business 2 Community…]
95% of people have watched an explainer video to learn more about a product or service. [Business 2 Community…]
97% of marketers say video has helped increase user understanding of their product or service. [Business 2 Community…]
81% of people have been convinced to buy a product or service by watching a brand's video. [Business 2 Community…]
65% of businesses who don't currently use video say they intend to start using it in 2018. (up from 34% in 2017) [Business 2 Community…]
Video Marketing Statistics From Google
Video Effectiveness –  76% say it helped them increase sales. 47% say it helped them reduce support queries. 76% say it helped them increase traffic. 80% of marketers say video has increased dwell time on their website [Hubspot.com]
64% of customers are more likely to buy a product online after watching a video about it. [Forbes…]
Videos represent more than 75% of mobile traffic [Cisco.com]
Visitors to your site will stay at least 2 minutes longer if you have video [ComScore]
Almost 50% of internet users look for videos related to a product or service before visiting a store [ThinkWithGoogle]
52% of marketers believe that video is effective for brand awareness [BlueCorona…]
Companies which use videos in their marketing grow revenue 49% faster year-on-year than those which don't [Aberdeen Group]
Companies which use videos in their marketing enjoy 27% higher CTR and 34% higher web conversion rates than those which don't.
96% of B2B organizations use video in some capacity in their marketing campaigns of which 73% report positive results to their ROI. [TubularInsights]
Viewers retain 95% of a message when they watch it in a video compared to 10% when reading it in text. [Popvideo]
Among those surveyed, 81% saw an increase in sales and 53% said support calls were reduced. [OptinMonster]
76.5 percent of marketers and SMB owners that have used video marketing said that it had a direct impact on their business.[Small Business Trends]
Conclusion
I could go on and on. All the video marketing statistics say the same thing.
Brands that use video marketing grow their revenue faster. (aka make more sales).
When it gets right down to it…
A video is more engaging, more memorable and bottom line…
The most popular with your consumers than any other content formats.
My question to you:
How are you going to use video in your content marketing strategy today?
The numbers don't lie.
Video is crucial for your business moving forward. What we have left now is the execution…
How can I help you get started?