Watching YouTube videos is fun. Creating videos for YouTube and getting results for your business is more fun.
There's no question about it. YouTube is on fire with 1.5 billion monthly users watching over an hour of content a day. Are you using YouTube marketing to its full potential for your business?
Are your engagement metrics high? Is your goal of increasing your conversion rate on track?
Could you use some new strategies to improve your marketing results?
Today I have something that will make you feel you can tackle any video and see first-hand strategies that are working right now … and will work even better in 2018.
1. Outrank Your Competitor with Keyword Research and Tags
Do you put a ton of time and energy into creating your video for YouTube but it's not being found?
You need to help viewers find the videos they want to watch and keep them engaged enough to reach your call-to-action. It all begins with some keyword research. Keyword research is different on YouTube than it is for text-based articles found on Google.
I'm sure you're most familiar with what YouTube will suggest to you.
Quick steps:
Write out general topics in your niche
From YouTube homepage: type in a keyword (when you pull up your term look at the results)
Get secondary keywords from the drop-down menu ( you can have as many as 20 secondary keywords)
There are also keywords that tend to rank high in google for videos
how to keywords
reviews
tutorials
funny videos
Because Google dynamically displays YouTube videos on the SERPs, you can rank in both Google and YouTube for your keywords, which could potentially skyrocket your traffic. Here's a helpful YouTube Video marketing guide to increase prospects in your funnel.
Another great tool to use for research is TubeBuddy. It's a free browser extension that integrates directly into YouTube. It is great for showing how your keywords are ranking and it will show the exact tags your competitors are using for their videos.
See it in action…
You can go after a top video that is ranking for a keyword you want to rank for. Look for videos that already have a ton of views.
Check out the tags your competitor is using. You can go back and edit your video with the tags or when you create a new video, be sure to use the existing tags.
Also, under the "Creator Studio", click on the analytics tab and continue to monitor keywords and optimize an existing video around that keyword.
2. Double Your Search Traffic With Compelling Custom Video Thumbnails
And increase engagement by as much as 154%!
A great custom video thumbnail can make the difference whether a viewer clicks through to your video or decides not to watch. It should compel your viewers to want to click your video to "discover" more.
Your thumbnail image plays a huge part when it comes to attracting and captivating your audience.
This strategy works for YouTube and Google search.
Have you noticed more video results are showing up in Google search results? Remember your uploading your videos on YouTube to be found but… big brother is watching and ranking you on Google.
How do you create compelling Youtube thumbnails that will attract?
After all, there are almost 5 billion YouTube videos on the platform.
Are you attracted to any of these thumbnails?
Enough where you want to click on the video…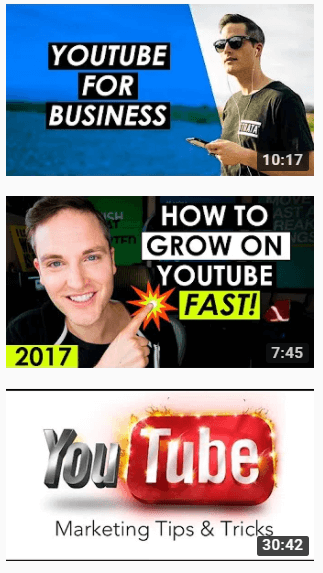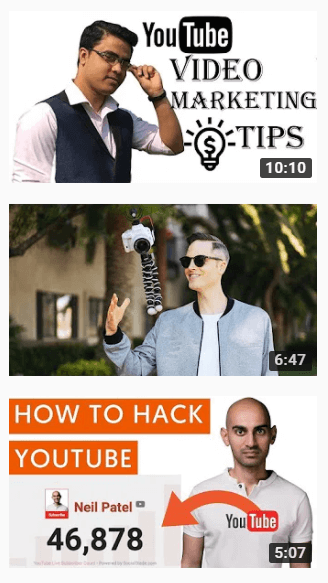 "The Youtube thumbnail is the 21st century's book cover. They need to be visually intriguing enough to catch eyeballs in a split second, or else you risk your videos gathering dust on your channel's shelves."
Canva curated a collection of 20 eye-catching thumbnails from channels started by people all over the world.
A few quick and easy YouTube marketing tips when it comes to thumbnails:
Be consistent with your typeface and treatments (large sizes make it easy to read and make sure text is large enough to read on any device)
Don't typeset over images – Try setting them over solid shapes
Place your title within a color bar and at the center of your thumbnail
Set your subheading in a smaller size or different weight
Use similar imagery and design elements if you have a series/themes (like a playlist that has 5 parts)
Set crisp white type over dark images
Show strong emotion
Use bright colors and high contrast images
Use fonts and colors that are consistent with your brand
Captivating or shocking thumbnails can increase engagement for your videos by as much as 154%.
90% of the best performing videos on YouTube have custom thumbnails.
Thumbnails should have great features to increase their impact.
They should be facial close-ups, high contrast, high quality, 16:9 aspect ratio thumbnails.
The imagery should visually capture the keywords and content of the video.
Avoid having relevant content in the bottom right of the thumbnail because YouTube will overlay video duration in that area
You might be wondering…
What's the right YouTube thumbnail size?
Your thumbnail should be 1280 x 720 pixels, with a minimum width of 640 pixels. And it must be in .JPG, .GIF, .BMP, or .PNG image formats.
In this Snappa tutorial, they show you how to create a YouTube thumbnail with the proper dimensions using a free tool called Snappa.
3. How to Properly Upload Video to YouTube From Start to Finish for Best Results
If you just created a corporate video, you have to consider where you want to host and promote it. There are a plethora of places starting with YouTube, Vimeo or Wistia for your hosting platform.
Let's concentrate on YouTube with its 1.3 billion people and robust search engine and how to upload your video for top results.
Step by Step Instructions on Uploading Your Video for Best Results
Step 1 The name of your file matters. When uploading your video, your title becomes the name of your file. Ensure targeted keywords are in your file names. After uploading, you'll see your raw file is your main keyword.
Step 2 To upload – Hit the arrow button at the far right of the screen. You'll next see the option to set your privacy settings. I suggest private at first. This gives you time to optimize your video for top rankings.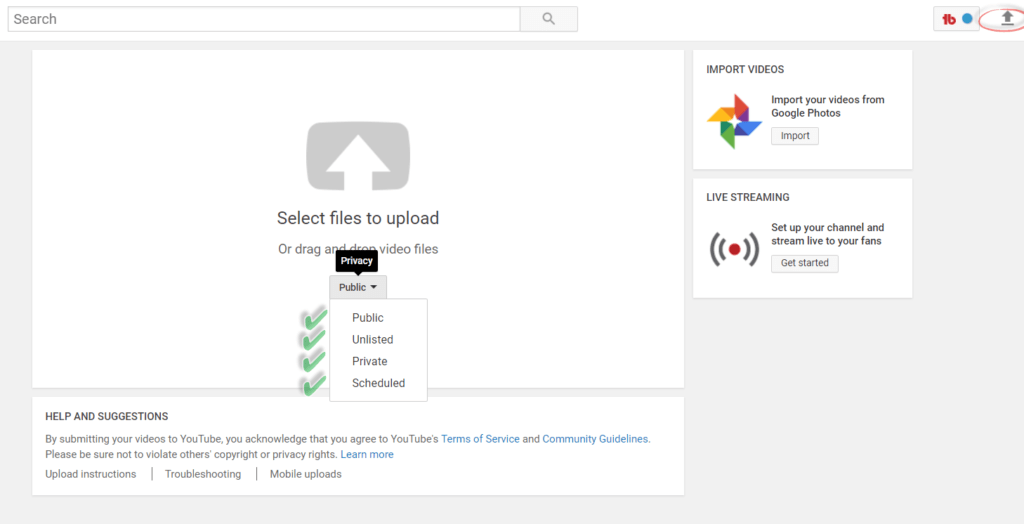 Step 3 Write your title/headline using primary and secondary keywords if it makes sense. For example: How to Write Best YouTube Video Titles|Tags of Viral Videos|YouTube Videos The main keyword is YouTube Video.
Step 4 Write smart descriptions. Youtube displays the first 125 characters in the search results. So be aware of your first sentence. Make it count. You want to compel someone to click on your result. But don't stop there. The full description has room for 5,000 characters. That is prime real estate. Use it wisely and add in a few latent semantic keywords and tags in your description.
And add a CTA at the bottom. For example "Subscribe to get YouTube Video Marketing Tips"! Or Follow me on Twitter!
Step 5 Fill in 3-5 tags. If you did your research, this part will be easy.
Step 6 Thumbnails. Always create a custom thumbnail. Competiton is fierce. You need to stand out. If you installed TubeBuddy, it has a built-in thumbnail generator. Be creative and remember the tips from above.
Step 7 In advanced settings, pick a category. As much information you can give YouTube will help with your rankings. You can also select your video language and recording date.
Step 8 Now is the time to switch from private to the public setting. You are optimized and ready to be found.
4. Boost Brand Awareness with Your Unique Banner
Youtube channel art (cover image) is the banner that is displayed at the top of your YouTube channel page.

You will increase your brand identity and give your page a unique look.
How to Add or Change YouTube Channel Art
Step 1: In the top right on your channel select: My channel (you must be logged into your account) The channel space will be blank if this is your first time here.
Step 2: You'll see 2 buttons –  Customize Channel and Creator Studio. Click on Customize Channel:

If this is your first time here, you'll click on Add channel art. You can add existing photos or upload a new image.
It is slightly different if you have channel art uploaded already. If replacing your existing banner – hover your cursor over the top right corner on your cover until you see the edit icon. It will look like a small camera.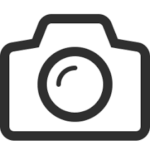 Once you click on the icon, another menu will pop up that will include Upload photos, Your photos or Gallery.
Step 3: Choose and change your image. According to YouTube, the best channel art size is 2560 pixels wide by 1440 pixels tall.
Step 4: You'll see a preview of how your image will appear. To make any changes, select adjust the crop.
Step 5: Click Select.
Step 6: Add your social media links to your banner.
Click on your about tab
Click on customize channel
Hover over the links section and click on the edit "pencil"
Click the +Add button
Enter the social media site and URL of the site you want to link to. You can add up to 5 sites.
Click Done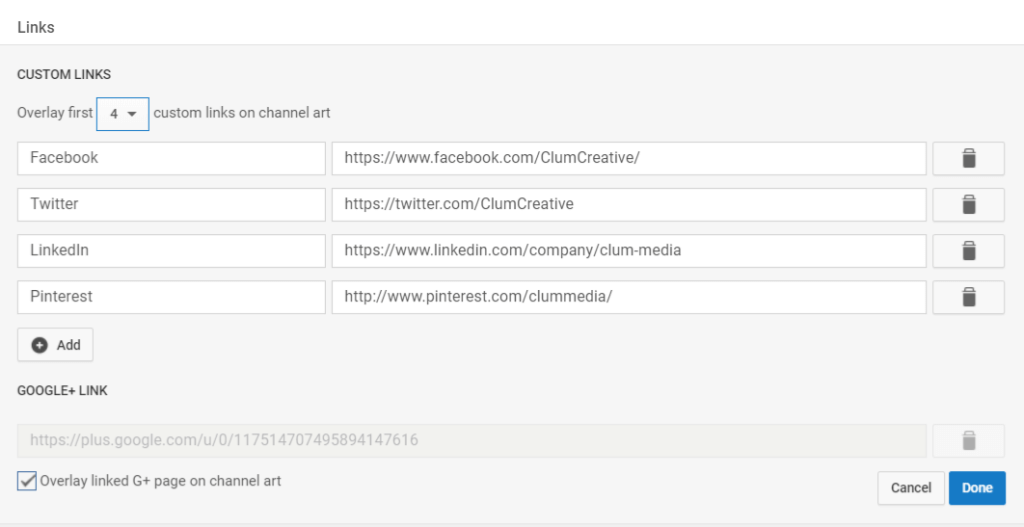 5. Grow Your YouTube Channel and Increase Watch Time
YouTube is judging you.
It gives preferential treatment to the videos that have greater amounts of watch time. Meaning their viewers are engaged and staying on the channel longer.
When your video ends, YouTube shows a quick list of recommended videos for the user to watch next.
Why not make sure they watch your video?
Syed Balkhi, a renowned marketer and founder of a youtube channel, List25, with over 2.3 million subscribers and over 560 million video views, suggests using well-crafted playlists.
Side note: your playlists should show what your channel is all about. And while naming your playlist you can keyword-optimize your lists for long tail keywords.
Back to Syed…
"A little-known secret about playlists is that you can trigger them from anywhere with a special URL."
How do you create this special URL?
Most add related video cards at the end of the video.
Instead of just adding the video link, Balkhi recommends directing the user to a playlist instead.
To do this, all you have to do is add &list=ID at the end of the URL.
For example:
Your normal video URL looks like this: https://www.youtube.com/watch?v=uww_Aq74NUE
You need to Modify it and add the playlist ID like so: https://www.youtube.com/watch?v=uww_Aq74NUE&t=2s&index=1&list=PLNhZ1XQp25HllGo6Wo0V5WE5xYZhrQDXJ
You can shuffle your list in any order you want. Great when you're creating a series.
With a boost in watch time, chances are in your favor…
YouTube will promote your channel through search and other recommended videos.
6. Increase Your Odds of Nailing the Sale
If you have a website, you can associate it to your YouTube channel.
Anytime viewers are on your channel, there is always the chance of them wandering to another video quickly. By contrast, once you take that viewer from your video directly to your website, you stand a higher chance of keeping them longer and gaining their trust. Which eventually leads to the sale.
Setting up an Associated Website is Worth its Weight in Gold
Step 1: You must join the YouTube partner program. (As of January 16, 2018, YouTube announced new eligibility requirements for the YouTube Partner Program. "Once a channel reaches 4,000 watch hours in the previous 12 months and 1,000 subscribers it will be reviewed to join the program.")
Step 2: Associate your website with your Google account
Step 3: Add a card (next tip) to your videos to link your website
Under Creator Studio… click on the tab: Channel
Channel will give you a drop-down menu with a setting named  "Advanced".
Click on Advanced. Here you'll be able to add your associated website:

7. Secret Tip From Youtuber with 567 Million Video Views
How would you feel with over 567 million video views?
Pretty happy I would presume.
Think of your YouTube card as a Call to Action for your video. Cards will help viewers discover more of your content. Where it gets super exciting, you can add cards to your video at the exact spot your users are leaving.
One thing YouTube loves is longer watch times. The longer your viewers are hanging out … the more ad revenue YouTube can earn.
How do you know the exact point where users tend to abandon your video?
and why do you want this data?
…to place your "card".
Here's how…
Head over to your Video Analytics. Under Creator Studio, Click Analytics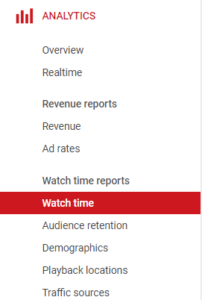 Analyze your watch time. If you see your viewers dropping off 25% of the way through, you can do a couple of things:
Get rid of a bad intro
If you're giving tips, give one of your best in the beginning to spike their interest
Place a card and have them move to other content or a playlist. Link to your other content that viewers will most likely be more interested in.
You can use cards to keep your viewers engaged. Since your goal should be to keep them engaged and reduce abandonment, place the card where you see them trailing.
A fun example is Slow Mo Guys (see the image below), they place a card to promote their related videos or playlists.
The tactic is effective to keep them watching or simply to subscribe to your channel.
See the card displayed below:
Slow Mo Guys Greatest…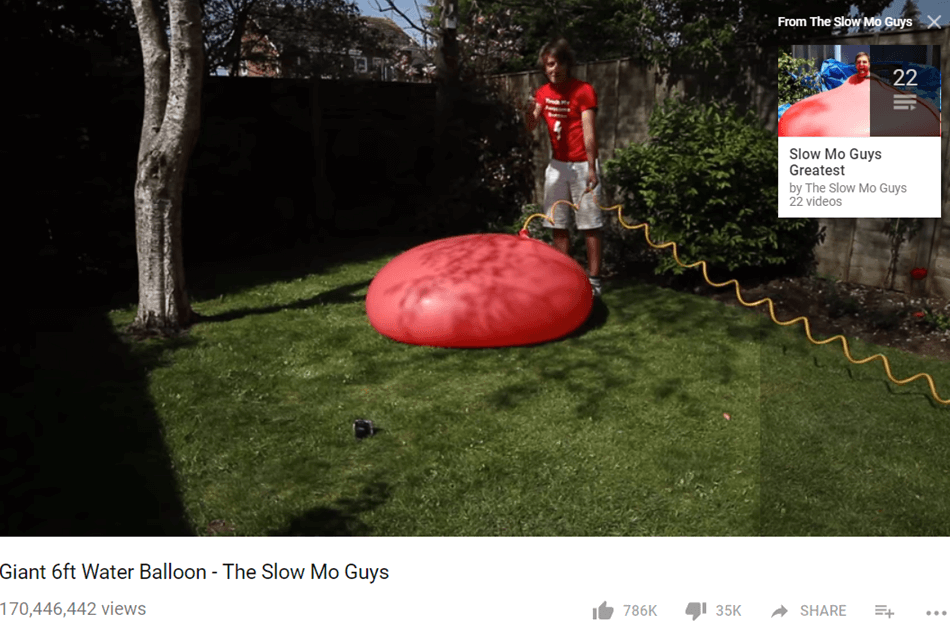 Eric Sachs, SEO virtuoso and CEO @Sachs Marketing Group gives some great ideas on how to make your content more interactive. It allows you to create a two-way conversation with your viewers. Since YouTube discontinued their annotations tool (which did not work on mobile), it replaced it with end screen and cards because of the mobile-first approach.
8. Use Intros Sparingly – Get to the Point
Intros should be your way of saying hello quickly. And remember to get to the point.
The average human attention span has fallen through the years from 12 seconds to 8 seconds.
Some YouTubers believe your intro is where you hold a captive audience. But if you drag it on they will leave. This branding tactic could backfire.
Take the advice of  Philip DeFranco a user who experimented with intros for years and has over 6 million subscribers.
He had an animated intro featuring his monkey logo: (which starts at the: 19-second mark)
Before – YouTube Marketing Tip: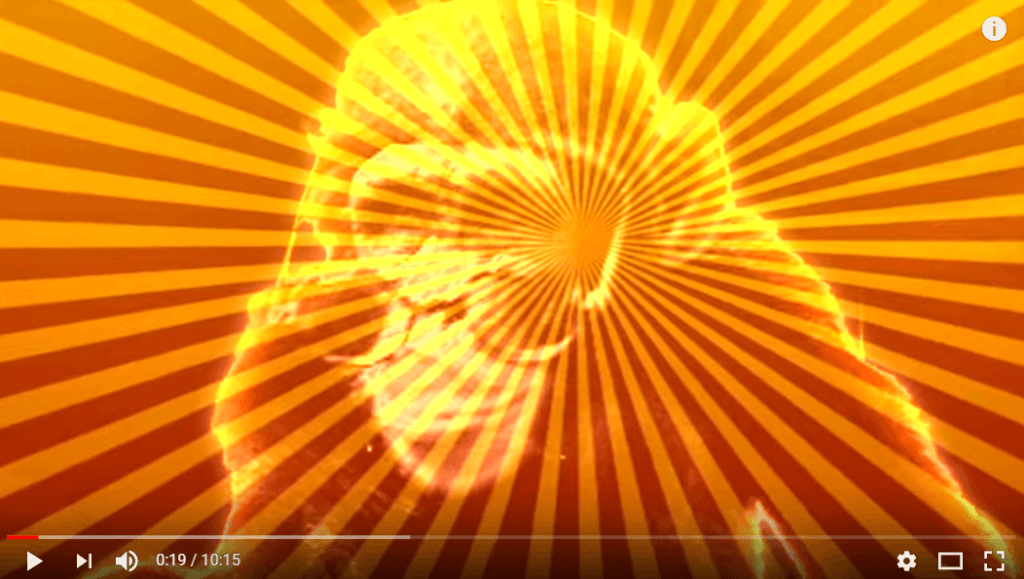 But has opted for his infamous one-liner:
"Wassup, you beautiful bastards. Hope you're having a fantastic …"
After – YouTube Marketing Tip: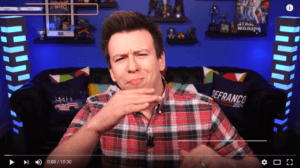 9. Become an Expert Storyteller with Video
Everyone can relate to a story. With over 17 million views, this video will tug at your emotions. Telling stories will engage your viewers and make content more relatable.
Watch…
"Would you dare to question who you really are?"
They asked 67 people from all over the world to take a DNA test. It turns out they have much more in common with other nationalities than they thought.
You probably already know creating a decent video starts with informative and engaging content. Storytelling for your business is more concise and less of a sales pitch.
With the shift toward inbound marketing and use of video, you will become more aware and reliant on storytelling.
When it comes to your business, don't tell me why your product is the best, show me through a story. It's much better for your viewers to discover it on their own.
Here's a great story…
Beachwood Plastic Surgery Brand Video
"A good rule of thumb is to show what you can and tell what you have to."
Vidooly can help provide analytics and video intelligence so that you can focus on making content, not reports. It's easy to use software can help you understand online video trends for all-around insights.

You can find out how many times a video has been shared on Twitter, Facebook, and popular social media platforms. Another cool feature, you'll discover the trending videos from all categories of YouTube.
10. Create a Powerful End of Video Experience
In tip #7, YouTube users that want to add notes to their videos can use cards. (creating annotations is no longer available).
You can add end screens to create a powerful end-of-video-experience for your viewers. Both cards and end screens work well on mobile devices. This is important because nearly 70% of all YouTube videos are watched on mobile devices.
"According to YouTube's documentation, End Screens can be incorporated anywhere within the last 5 to 20 seconds of a video and can include up to four elements. In addition to promoting a creator's own videos and encouraging users to subscribe, the feature can also point viewers to other videos, playlists, or channels on YouTube, or can be used to promote non-YouTube content, like websites, merchandise for sale, or crowdfunding campaigns.
When a user hovers over an End Screen on the desktop or taps on them on their mobile device, the End Screens will then expand to display more information."
How to Add an End Screen to Your YouTube Video
Step 1: From your Video Manager (located in your Creator Studio), Select Video
Step 2: Choose the video you want to add the End Screen and Click on Edit
Step 3: In the top tab bar, click End screen (The end screen tool currently only supports videos with an aspect ratio of approximately 16:9.)
Step 4: Add Element. You can add up to four elements to a video. At least one element must be a video or playlist. Select each element and fill in the required information, then click Create element.
Step 5: Click Save
You're good to go!
11. Embed YouTube Video as Powerful SEO Growth Strategy
If your goal is to grow your traffic on YouTube, I would recommend utilizing YouTube as your embed tool over Wistia or Vimeo. Embedding using YouTube code will drive traffic to your channel instead of "giving" it to your other hosting platforms.
You can embed a video to your LinkedIn profile, email signature, website, etc. This will help boost your video's traffic and your YouTube ranking. Also, embed YouTube videos on your blog and promote them to your social media audience. This will not only increase video views, it will increase your site's page views.
And Google will give slightly more weight to your YouTube videos in search results. "In terms of owning Google SERP real estate, YouTube has become one of the most powerful tools in any SEO arsenal."
Let's take a look at how to embed a YouTube video in your blog posts.
Step 1: Go to the YouTube video you want to embed.
Step 2: Under the video, click SHARE
Step 3: Click EMBED
Step 4: Copy the code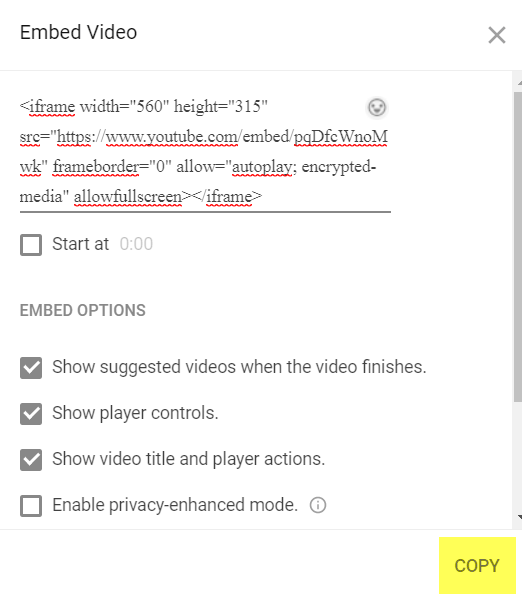 Step 5: Paste the embed code in the exact place you want the video to appear.
Here's step by step if you are using WordPress.
Go to the post you want to add the video.
Click on Text.
Go to the section you want the video to appear.
Drop in the code.
No doubt your posts will become more dynamic and engaging.
Integrating YouTube videos in your content marketing can benefit your business greatly. You'll engage your audience and receive a couple of SEO perks as well.
Here's How to Use These YouTube Marketing Tips For Your Site
You've read about the 11 YouTube marketing tips. Now it's time to implement them.
The first step?
Leave a comment to let me know which tip you're going to try first.
Ready to create your first card or end screen?
Or maybe you want to re-evaluate your Intro's like Philip DeMarco did?
Either way, leave a quick comment below right now.